Happy Thursday. I got to work late today because I went in for some blood work on my way in. After having some concerning temperatures over the last couple of days I decided to email my OB and see what she suggested. She called for blood work to check my thyroid. So now we just have to wait and see.
I have decided to be brave and attach my chart for all to see. Not that there are many people looking at this blog but this chart will give you a glance into my life…well Jeremy's too! HA! So here it is!
"chart not updated"

This morning I had a rise in temperature so that is good. I hope to see more rises so my charting experience will be better than it has been in the last couple of days!
Tonight is Grey's! Can't wait!!!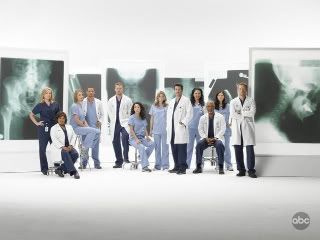 The premiere last week was so good! I want more! Hopefully tonight will be filled with more drama! Ha!
Wellness Challenge: Didn't work out last night due to Jeremy's softball game. Tonight we will be hitting the gym for at least an hour before the TV watching begins. Weighed in this morning. Depressing….only down 2 pounds for the whole 2 ½ weeks we have been doing this challenge. Time to step it up! No more excuses.
Well I should get to work now that I am here. Hope everyone has a great day.