A little late I know but hey at least I am updating now! :O)

37 weeks! Full term!! Looking very pregnant now! :O)
How far along? 37 weeks 6 days – tomorrow will be 38 weeks! Holy crap!
Weight gain/loss? +18!! Well I passed the 15 pound mark but I am still proud of my weight gain actually. :O)
Maternity clothes? Yup that's all I wear now.
Stretchies? Oh yes…lots of them on my tummy now.
Sleep? Getting harder to fall asleep and stay asleep. Only having to get up 1 time through out the night to use the bathroom so I really can't complain about that.
Best moment this week? Last week we had a shower at Jeremy's work. It was a lot of fun! And we picked a name!! Jude Robert it is!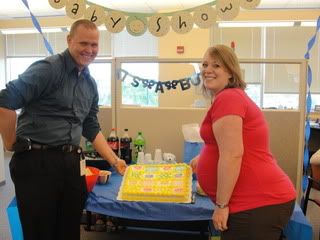 The yummy cake.

Just some of the gifts we got. His co-workers are amazing!
WORST MOMENT THIS WEEK: The feeling of Jude being on my rectum! So not comfortable. You think the bladder is bad. Yikes!
Movement? Oh yes, he is a mover and a shaker! More and More.
Food cravings? Chocolate Milk! Wonder if this will ever go away? lol
Gender? Still a Boy! ;o)
Labor signs? Braxton Hicks, cramps (feels like period cramps) and just being achy.
Belly button in or out? in but getting kind of shallow.
What I miss? Sleeping on my tummy and not having Heartburn every night.
What I am looking forward to? The Rockies vs. Red Sox's game tomorrow night – hold off buddy!!!
Weekly wisdom? Go to bed early and take lots of baths. :O) So relaxing.
Milestones? Hitting full term (37 weeks)!!!! And now, tomorrow, hitting 38 weeks!
I promise I will post more pictures! :O)