Today marks the first day that Jeremy had to return to work. It was a hard morning for us all. Jeremy actually had to get up and get moving, after 3 weeks of some lazy mornings it was hard. It was also hard for him to say goodbye this morning and as I sit here I am thinking about how weird it is that Jeremy isnt here today. I know we were so lucky to have that 3 weeks together so I am happy that we got it but damn it went fast!
I will be off for another 5 weeks, I am so happy I get the 8 weeks with my little Turtle.
So Jude is 3 weeks and 3 days today. Again, how fast is this going!?!?
I am starting his scrapbook today. I love it so far. I really hope I can keep up with it once I return to work, because it would be so special for him to have a Jude scrapbook for the 1st year of his life. :O)
I can already see the changes in Jude over the last week. He is getting so big! I really want to know how much weight he has gained but we wont be going to the doctor for him until the 19th of August for his 2 month check up. Bummer. He is getting a really strong neck, burping him is getting fun! He tries to lift his head and he will for a good amount of time but then all of a sudden his head must get to heavy because down it goes!! LOL

Puppy Outfit, adorable!

First bath!!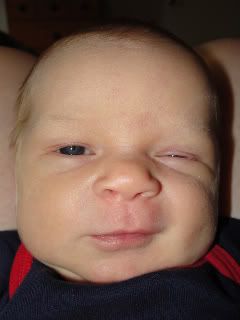 How you doin? This makes me laugh everytime I look at it!

Such a big boy.

All ready to go to Daddy's softball game.
Yesterday we did something that was really hard but something that has needed to be done for many months. We went to my grandfather's farm to spread his ashes. The farm is under contract right now and we are praying that the contract follows through and that the farm finally sells. It was hard to spread the ashes and think that this is possibly the last time we would be visiting the farm because it could be closed on with in the month! It was a lot of closure but we all know we need to get it sold. I am happy that Jude got to go with us though. Even though Grandpa isnt there anymore I think having pictures of Jude with us in front of the farm will be really special later on in his life when we tell him all about his Great-Grandpa Bob. :O)


At Great-Grandpa's Farm.
Weight update:
I am down to my starting pre-pregnancy weight. In total I am down 20 pounds since the birth. I am hoping to lose another 5-8 pounds before my appointment on August
5th! In order to do that I have to stop snacking and taking more walks! LOL I can't wait until I can get on the exercise bike – cardio please!!
Pumping/Formula Update:
Still pumping, still only getting about 1 ounce of milk per pumping session. Anything is better than nothing! That is what I keep telling myself. :O) He is eating about 4 ounces per feeding now. Hungry Turtle!!

They call me Turtle…dont touch my turtle please!