Thats right, Jude is 2 months old! Time is going really fast…too fast.
Here are some pictures and updates!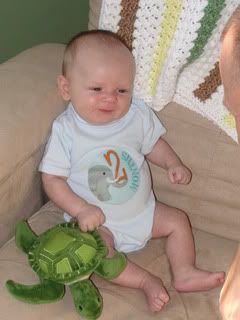 Jude smiling at Daddy. Getting all set up for pictures.
2 Month (8 week appointment) Friday August 20th
~12 pounds 8 ounces – 77%
~23 3/4 inches – 84%
Very healthy – doctor is impressed with all of the milestones Jude has reached thus far, keep it up little man!!
Doctor says Jude will be like his Daddy, tall!! He has almost grown 4 inches since birth! He is growing before our eyes.

Going to be big like Daddy!
At this appointment he got his first round of shots. He cried bloody murder for about 2 seconds and then stopped. He was a little fussy for the evening but once we gave him tylenol he was fine. Just sleepy.
His next appointment will be in October for his 4 month check-up.
One of Jude's biggest accomplishments at 8 weeks was sleeping through the night! On the night of the 19th into the 20th he slept for 8 hours for the very first time!! Way to make us know you are a BIG BOY Jude! Marking your 8 week appointment with lots of sleep! Way to go! He has been sleeping from 10pm-6:30am every night since! Mommy and Daddy are so happy and proud – and yes we know we are lucky too!
Another fun thing latey are all of the smiles and giggles! He is one happy baby! Love it!!

2 MONTHS!!! Our little Turtle is growing. We love you Turtle!!!!
Upcoming events:
This weekend we are moving my brother into his apartment. Busy Saturday for us. Possibly going swiming with Jude at my brother's pool on Sunday! Could be an eventful time – first swimming with Jude. The weather is supposed to be great, so we will see!
Next weekend – Labor Day weekend. Sunday of next weekend Jude will be getting baptized! It will be a great weekend of visiting and celebrating. Jeremy's parents are coming into town for this and so are Lauren and Jared! I can't wait to see everyone!! Pictures to follow of course!
Well thats our update!
One Comparison Picture:
1 Month and 2 Months