Jude was baptized on Sunday September 5th at Zion Lutheran Church. This is the same church that I was baptized in as well, also confirmed and married! This was a very special day for us and our families.
Here are some pictures of Jude on his special day.
His Godparents are my brother (Jarrin), Jeremy's sister (Heidi) and our good friends Lauren and Jared. Special people!! We love you all!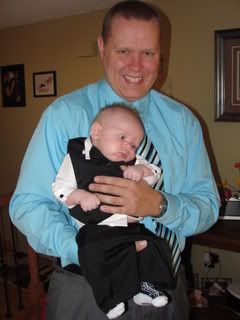 Daddy and Jude all dressed up! So handsome!

Mommy, Daddy, Jude and Pastor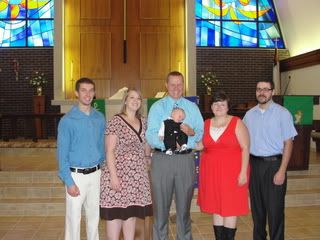 Jude with Mommy, Daddy and his Godparents.

Lauren, Jared and Jude…adorable!

The GodFather! AKA – Uncle Jarrin! :O)

Grandparents, parents and Jude! What a popular little man he is!

Lookin cute in my little suit!

Tellin us all about his bowtie!

Our family!
What a special day! One more milestone our little Turtle has come too!