Go RAPIDS!!!!!!!!
The 3 of us went to Jude's first sporting event on September 29th. Censie won free tickets to the Colorado Rapids game from work so we decided to brave the wind and go to the game. The Rapids are our Major League Soccer team here in Denver.
Our Family at the game!

Jude was diggin the baby Bjourn! It worked so well.

He didn't enjoy the loud canon they set off when the Rapids score a goal! Yikes! Not a happy baby!!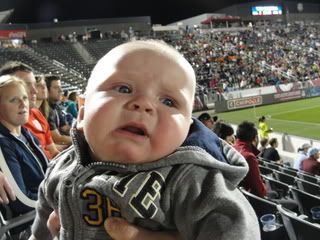 Mommy and Jude watching the game.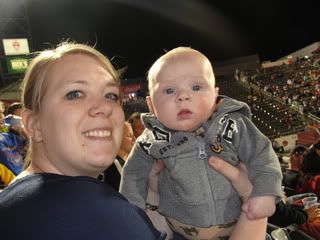 All bundled up for the game.

So cute!! He melts our hearts!

We had a great night at the game. Jeremy can't wait to take Jude to his first Rockies game – that will have to be next summer. So much fun doing these FIRSTS!