Some more stuff we love!
Isn't it amazing the amount of *stuff* it takes to take care of a 12 pound little human? Really? How did our grandparents even survive? That's the question my mother always asks when I show her some new thing for Jude. I don't know mom but I sure love that someone came up with something to hold Jude's dirty diapers so I don't have to run to the trash every diaper change! Thanks much person!! LOL
**these reviews are for personal use only, I am in no way promoting any certain product**
Diaper Pail


Product we used: Arm & Hammer Diaper Pail
Why we love this: Like I mentioned above, I LOVE the person that came up with a stink free diaper pail! Thank you thank you thank you! We decided on the Arm and Hammer Diaper pail over some of the other options because the refill bags were cheaper than those for the other brands. These bags say you can only fit 25 diapers in each bag – well we do A LOT more! We stuff those diapers in and get the most out of each bag, thank you very much! LOL We have never noticed a poop or pee smell from this pail and haven't had to do much clean up on it since we got it. Over all I am so pleased with this item and would recommend it to anyone who has a home that the outside trash isn't easy to access. The refill bags are $5.99 for 10 bags. A deal if you ask me!!
Lion Blankie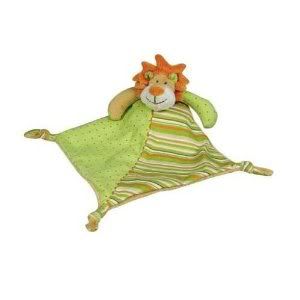 Product we used: Maison Chic Jersey Blankie
Why we love this: My Aunt got this Blankie for Jude and he adores it! I have been looking all over the place for another one and I can't find them in stores, I did finally find them on Amazon.com and plan on getting another one for him. When he is fussy we give him this and he immediately grabs onto it and holds it tight and chews on it. And even when he isn't fussy we will give it to him and he will just hold the lion and look at it and do this cute little cuddle with it. This blankie is cute and has great colors and patterns on it. The lion head is soft and easy for Jude to grasp and the arms give Jude a little hug when we give it to him. I really feel like this will be Jude's safety blanket in the future. I am so thankful that my Aunt saw this and thought of Jude. I know I will be purchasing some of these for any of my friends who are pregnant in the future!! Oh and the best thing – WASHABLE!!!
Formula Container


Product we used: Formula Dispenser – I don't know what the brand is, any brand will do the same thing
Why we love this: Jude was on formula beginning his 4th day of life. So we have been using this dispenser for well over 3 months now. We love it! It is so easy for traveling and putting in the diaper bag. I am sure we will use this for cereal and food when Jude is older too. I bet we will have to buy a couple more when he is eating solids and stuff. I just fill the 3 spaces full of the amount of formula to make 3 – 6 ounce bottles and have them in the diaper bag – just in case. I would recommend this item to anyone who might have to use formula. Quick and easy for mommies on the go!!

Bottles


Product we used: Playtex BPA Free Ventaire Advanced Wide Set
Why we love this: Jude was and is a gassy baby – poor little man!! These bottles have really helped him slow down when he eats but also decreases the amount of air the bottle ends up with. We have noticed a huge difference in his tummy issues since using these bottles. Jude has always used the wide nipples better than the normal nipples – maybe because that is what he used in the beginning? I don't know but either way we have stuck with the Ventaire wide bottles and love them! They are a great price at Target and come in neat little sets that give you a much better price. For any babies who have gassy tummies I would buy these bottles just because the amount of air the baby will take in at each feeding will be a lot less than a normal bottle. Easy to clean and fit great in our Electric Sanitizer!
Something to leave off the registry?
White onesie! The gerber ones…we got about a million of those things and honestly we rarely used them. The only time we used the white onesies were for his Monthly pictures! LOL We got so many of them and we did take a lot back. Also be aware that these gerber "undershirt" onesies fit really small. If you do plan on using them, do not wait to get the 3 month ones out until 3 months – your baby will probably fit in them when he or she is 1 month old! That was a mistake we had in the first month! Oooops!!
Instead of white ones, add some cute outfits and printed onesies you like instead. Think ahead – add some 6 month and even 9 month outfits to your registry BUT remember to think ahead to what season of weather it will be when your little one is 9 months old.