Thankful Thursday, seems appropriate today considering it is Veteran's Day. So with that here is a little poem I found.
They Did Their Share
On Veteran's Day we honor
Soldiers who protect our nation.
For their service as our warriors,
They deserve our admiration.
Some of them were drafted;
Some were volunteers;
For some it was just yesterday;
For some it's been many years;
In the jungle or the desert,
On land or on the sea,
They did whatever was assigned
To produce a victory.
Some came back; some didn't.
They defended us everywhere.
Some saw combat; some rode a desk;
All of them did their share.
No matter what the duty,
For low pay and little glory,
These soldiers gave up normal lives,
For duties mundane and gory.
Let every veteran be honored;
Don't let politics get in the way.
Without them, freedom would have died;
What they did, we can't repay.
We owe so much to them,
Who kept us safe from terror,
So when we see a uniform,
Let's say "thank you" to every wearer.
By Joanna Fuchs
This says a lot about the many men and women that have brought our country to where we are today. Thank you to all of you for what you do.
I do not have pictures of both of my Grandfather's but I do have my Grandpa Mumby's Navy picture and I adore it. He was such a cutie as a young man! I love him and miss him every day.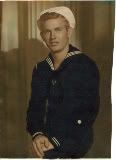 Robert John Mumby Sr.
Thankful Thursday! Thankful for what great people serve our country now and in the past and the future!