For Jude's first Thanksgiving we traveled to Phoenix Arizona to visit Jeremy's parents. We were so happy that we got to spend the holiday and some time with them. It was a special trip!
It was also Jude's first plane ride – he did fantastic! We are seriously blessed with a great baby boy. We did the normal bottle at takeoff trick and then he slept until we landed. He did this on both flights! Like I said…blessed!! The whole traveling during the busiest time of the year really scared us since it was the first time we would be doing the plane thang but it wasn't bad at all. Thankfully!! 😉
So time to share some memories and pictures.
Swimming Time – enjoying the sunshine!

Swimming so big! He was actually kicking his little legs.

Look at his hair! It is so funny! Jude really liked swimming in the outside pool – something that he hasn't been able to do in Colorado.
Just hangin out visiting with Grandma and Grandpa Sawyer!

He really liked playing with this little water bottle – it made really big noises when he threw it on the ground! It was so funny when it would happen, he would just laugh!! So funny!

Watching football with Grandpa Sawyer – this is THE life!
Happy Birthday Grandma Sawyer!


I love your face Grandma!! Come here let me eat it!! So cute. Out to dinner for Grandma Sawyer's birthday celebration!

Happy Birthday Grandma Sawyer! So happy we got to celebrate with you.

Our family in front of the house.

So bright out!! Cute picture with Grandma
Merry Christmas – Early!!!

Us in front of the tree. Celebrating Christmas early with Grandma and Grandpa Sawyer and Great Grandma Bangert. So much fun!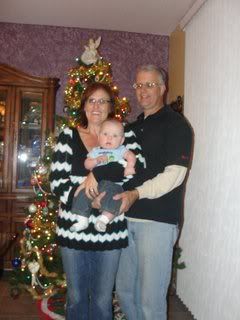 So happy to be with my Grandma and Grandpa!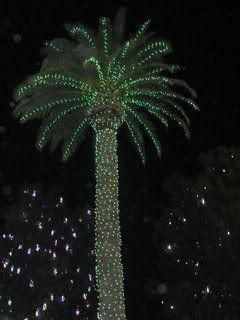 This is Christmas in Arizona!

Great Grandma was showing Jude her Christmas Tree. He really likes the lights!

Jude gets to open his very first Christmas Present! He actually did really well. He wanted to eat everything but it was fun!

My very own lap top!! I love it! Thanks Grandma and Grandpa!!!
Arizona was so much fun. We all wished it was warmer but we found plenty of things to do to keep us busy. Thanksgiving, Christmas, Birthday, Swimming, Visiting and Relaxing. It was perfect!