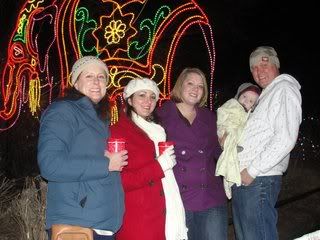 Paula, Aynsley, Me, Jeremy and Jude.
The 3 of us went to the Zoo Lights at the Denver Zoo with some friends on December 18th. It was a lot of fun. It was cold – normal for Colorado except for the lack of snow! Hello?!?! Oh well.
This was also the first time Jude had been to the Zoo. So it was a big night for him!
I hadn't been to the Zoo Lights in years and it was better than I remembered it, so it was fun for all ages! I am sure that next year will be even better with our 1 ½ year old Jude! ;o)

Daddy and Jude looking at the animals. Jude really liked the giraffes. So much fun!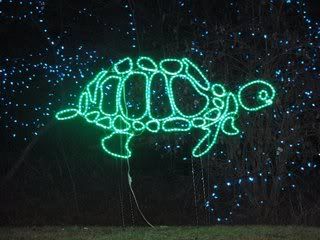 You will not believe what we found at the Zoo Lights!!!!!!!! Yup a TURTLE!!! It was so much fun to find one. Of course we had to get a photo by it…

The Turtle Family. :O) So much fun.

Little Jude got kind of cold, I think. He cuddled up on Daddy and watched the lights and animals. He stayed awake the whole time and just kept his eyes on the happenings. It was so precious.
We can't wait to go to the Zoo when it is light out and not so cold! Jude loved the animals we did see. Such a big boy!