Jude's 1st Christmas!
Just like the previous "Christmas Eve" post be ready for pictures!! Lots of Pictures!!
Jude had a fantastic 1st Christmas. He did so well with the gift opening. He loves wrapping paper – big surprise I know! lol We had a busy day but even with all the hussle and bussle he took his naps like a pro and enjoyed his family time. We got home and put him to bed and reflected on how lucky we are to have such a perfect and precious little boy. Jeremy and I are in love with our Turtle Jude.

This is a picture of what Jude came home with on Christmas Night – SPOILED and LOVED!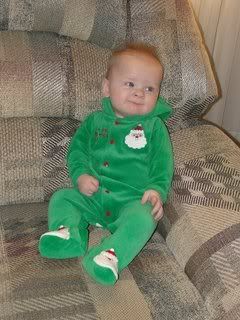 The "offical" 1st Christmas Picture. Jude in his Christmas PJ's!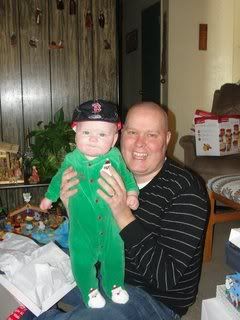 Daddy got Jude is very first Boston Red Sox's hat. Ready for baseball season now!

Uncle Jarrin helping Jude out with the whole opening presents thang. He got it down.

Turtle gets a Turtle pillow pet! Awwww. He loves it!

Another "offical" picture. Don't you love his Christmas Day outfit? Santa's Little Man!
So as you can see Jude had a really fun day. I know he didnt know what the heck was going on but we got plenty of video and pictures to remind him later.
We hope you and your family had a nice holiday as well.