Jude is 7 Months! I know, I can hardly believe it. It really is going fast and all I can think about is how much he has changed daily since the day we met him.
January 25th, 2011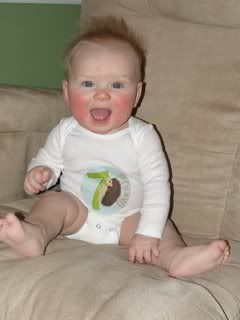 "Look at me! I am 7 Months"
Some Milestones:
No teeth yet – but they are coming in (I know we have said that before but I am pretty sure we are right this time!) LOL
Not crawling BUT so close. He can get around to anything he wants to now by rolling and scooting. I know that crawling is next and my dad even saw him up on all fours and rocking back and forth – progress! Crawling or not – he is on the move! And he is fast! Not sure if Turtle was the right nickname for him!
Eating so well!! He loves eating and is really getting the hang of using his lips and tongue to clean the spoon when eating! YAY!! We introduced yogurt into his diet and he seems to really like it. Yummo! We are on the 2nd stage foods still. Veggies, Fruits, Meats, Cereal and Yogurt are his diet oh and formula too.
He has mastered the idea of reaching up for me or Jeremy when he wants to be held. It is adorable and it makes my heart melt!
He was diagnosed with Croup on the 28th of January. It was sad to hear that barking cough, we caught it early though – so he is feeling better now. Hopefully that is the end of the sickies for the year for him!!
We did find out that he broke the 20 pound mark when we took him in for Croup.
7 Months his weight was 20 pounds 5 ounces (81%) – they didn't measure him.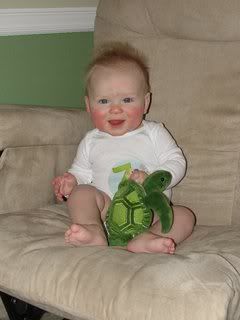 Look at those red cheeks! This was the onset of the Croup/cold he got a couple days later. Poor Turtle!
Happy 7 Months Turtle! We love you so much!!
Oh yikes – we have less than 5 months to plan your birthday party! Count down begins….