Well you all need an update, I know, I am a slacker again!! I have an accuse though – ICE and COLD!! Oh and Jude! Lol
Jude and I got to stay home Monday, Tuesday AND Wednesday together. Why you ask? Oh because here in Denver on Tuesday the wind chill was -32 if not more at times and the high of the day was -3. All of the schools were closed and many businesses as well. It was just too cold for anyone to be out in the elements. We really didn't get too much snow but the ice and wind chill was crazy. Wednesday was the same, I think the high was 1, not sure what the wind chill was but either way – too cold for Jude's little lungs. So here are some updates in picture form.
Mommy and Jude's snow day or "Cold Day" adventures!

This is Jude's window in his room – yes that is ice on the inside. It was actually about a 1 and a half inch thick layer of ice on his window. Poor baby! Too cold!!! Thankfully that has melted and we now have a normal looking window again! Crazy!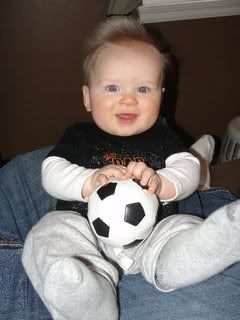 Soccer time!! He has mad skills people!

A snow day nap – yup he is a tummy sleeper just like his mommy!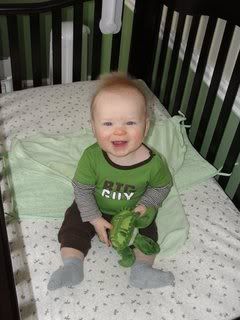 What a good nap – ready for some Mommy and Jude time. Such a smile!

Mommy had to work from home some so Jude got his laptop and joined in the 9-5 life. He got a TON done! Anyone want to hire him?
We missed Daddy a lot he had to go to work. Sad. 🙁 Maybe next time he will get to stay at home with us.
In other news – we had to replace our 20 year old hand-me-down TV last night. Jeremy went out to Best Buy and found one for a great day. It really was a perfect time for the TV to go out considered it is Super Bowl Weekend but I hate that we spent almost $500 on a TV! Seriously!! Hate that! Oh well. It is what it is.
Well that is just some of our life this week. It has been a crazy week and I feel all out of sorts, I am back at work today (missing my boy like crazy) and watching snow fall fast and hard – wondering if we have another snow day in the works. Ummm…fingers crossed!!
::doin a snow day dance::