In a previous post about
Goals for the New Year
, I posted about wanting to get back to reading in 2011. Well February is almost over and do you want to guess how many books I have read? LOL Yup you are right zero, nada, zilch, NONE! Isn't that sad? Well it makes me very sad.
So here I am again, letting all of you know that I have 10 months to read 12 books. I even made a fun icon – maybe that will help motivate me! It is cute.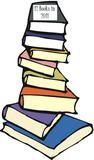 First book on my list:
Mini Shopaholic by Sophie Kinsella – I love the Shopaholic Series and can't wait to get some chic lit in my little head again!
And some other books that I would like to read this year:
Now most of my reading is usually chic lit! I love it but I really have heard great things about the "Girl with the dragon tattoo" series so I want to give the 1st book a try and then see if I want to read the rest of the series.
I hope to do book reports on said books – like I said in my previous New Goal post!