Some of our favorites! Over the months we have come to love all kinds of toys, supplies, ect. Just like my other posts on baby gear items, I am not paid to review these items. Just sharing what we use in our house all the time!
Wash Cloths: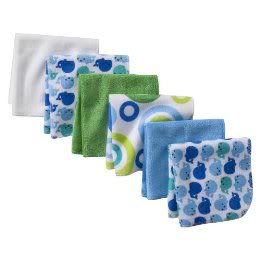 We love these Circo Brand, from Target, wash cloths, they are soft and cheap! We use these every day for feeding time. They arent rough on Jude's face and that is why I love them. Also you can can get a pack of six for 5 bucks! So when they get too stained I throw them out!
Shoes!


I love baby shoes, they are adorable! These do not fit Jude any more but we loved them so we are going to buy more soon. This is the Robeez brand. They are a little pricey but they stay put! Which is what is most important! Socks just do not work with Jude anymore!
Humidifier


We use this warm mist humidifier every night. We live in Colorado, it is dry!! We started using this one because it was a warm mist so it actually helped keep Jude's room warmer through out the bitter cold nights we have PLUS it helped with his dry little nose. Now he is used to the white noise it puts off, we might be investing in a cool humidifier for summer time! Another plus to the warm mist is that it boils the water before it becomes mist which means it is takes care of the germs too! NICE!!
Music – Rockabye Baby

I have talked about Rock-bye-baby cd's before, we LOVE THEM!!! Jude listens to the Beatles, Green Day, Weezer, Aerosmith, Pink, Bob Marley, ect. Again, the white noise is necessary!
Stay tuned for a Rock-a-bye Baby cd giveaway too! Like I said we love them!
Take and Toss Spoons

We love these! So easy, so cheap! Anytime we decide to go out to eat we take these. It means clean up is so much easier. Just leave the used spoon and food containers on the table and done! No messy spoons in your diaper bag! Yes, I know – not that enviromentally sound but there are some parts of parenthood that just don't mesh with the GREEN way of life!
Raspberry Teether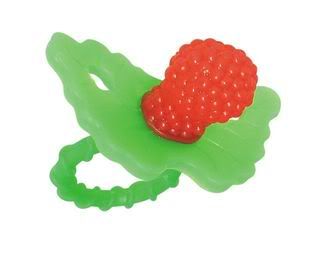 Jude never really was a pacifier user but he adores this pacifier teether. It is so nice too. I put it on a pacifier tether and that way he always has something in hands reach to play with and put in his mouth. We have a red one and a blue one. They are fun! Oh and a really cheap toy too!
HOT DOG SONG!

This is a must. You have to watch Mickey Mouse Clubhouse at least once with your little one and see if they love this song as much as Jude.
A video of Jude dancing to this song will be posted soon!
Well that is my list as of right now!
Soon it will not be baby gear – it will be Toddler gear. :o( Sad Mommy face!