The Big Birthday Reveal!! I told you it was coming.
Here are some of the items we have looked at and even bought. So we might be going a little (LOT) over board but I DON'T CARE! He will only have 1 1st Birthday so we are going to have one hell of a shindig in his honor!
Theme: TURTLES! (DUH!)
Colors: Bright Ocean Blue, Orange, Brown and Kiwi Green!
Activities: Back Yard Fun – kiddy pool, volleyball, "cornhole game", ladder golf, and visiting!!
Food: Sandwhiches, chips, salads, fruits
Cake: Turtle shaped (One of my friends that I have known since Kindergarten will be making it!)
Who: Family and Friends – 55 invites going out! YIKES!! :O)
This is where my inspiration has come from. Thank you
Inkberry Cards
! (More on Inkberry to come!! LOVE THEM!!)
I saw this shirt from
MaggieBugBaby
(etsy shop) and knew it was the one. It matches the invites perfectly and when the shirt came in the mail it was perfect! I know he will look super cute!!
You all know how much I love
Sweet Stella's
(etsy shop) and Shannon is doing a fabulous "Happy Birthday Jude" banner with little turtle embellishments. I cannot wait to see the finished product!! Thank you Shannon and Sweet Stella's!!
Well a party wouldn't be a party without some fun goodie bags! So we are going ALL turtle on this one!!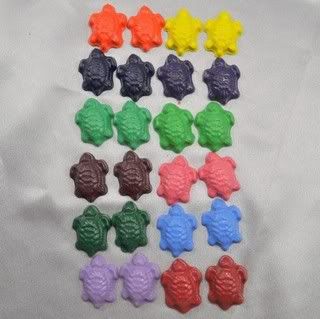 "Photo Courtsey of Red Elm Designs"
Aren't these mini Turtle crayons adorable? We love them and cannot wait to hand them out.
Red Elm Designs
(Etsy Shop) did a fantastic job on these little guys. Check them out, they have any shape of crayon you can want or think of! Adorable!!
We love us some bath toys, especially Rubber Duckies, so when I saw these little squirt turtle toys I just knew we had to get them. Love Oriental Trading Company! Great goodies for great prices!!
Jude LOVES Mylar balloons now. We go to the store and he sees them and points at them and grunts! Well I found this on Amazon so we will be ordering at least 1 of these. Maybe 3! LOL Yes, I know OVERBOARD – I DON'T CARE!! ;o)
"Photo Courtesy of Amazon"
Well that is just a taste of what will be at this fun "Shell-a-bration" for Jude!
Link up here!
Have you entered the Rockabye Baby Giveway yet? Do it now!! Click HERE!