Today is Thankful Thursday and this beautiful Thursday morning (even though I feel like poo) I am thankful for the friends and family we have that support Jeremy. Most of you know and have read about Jeremy's ongoing battle with Ulcerative Colitis and even a couple hospitalizations because of the disease. We were excited to be a part of a great walk in Denver this year, and plan on doing this every year from here on out!
Bathroom Buddies was our team name for the Take Steps Walk – Colitis Walk on June 11th at the Denver Zoo. We had a family and friends join us to help raise money for the CCFA in hopes of a cure for Colitis and other Irritable Bowel Diseases and we had a lot of fun.
The evening was full of mingling, eating and walking. The weather was perfect for a nice walk around the Zoo and it was fun to see all of the other people affected by these diseases, that may sound bad but I think it was very therapeutic for Jeremy (and me) to see that he is not the only person that deals with this disease on a daily basis.
Jeremy, Jude, Jarrin (my brother), Dad, and me enjoying the walk at the Zoo.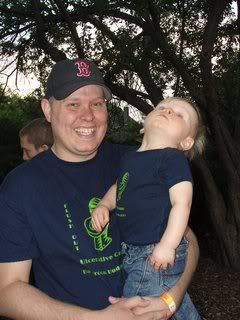 Daddy and Jude. What the heck is Jude doing? Haha
Mom, Jarrin, Kayla (brother's gf), Avery (Kayla's daughter), Me and Jude. Ready to get some dinner before the walk starts.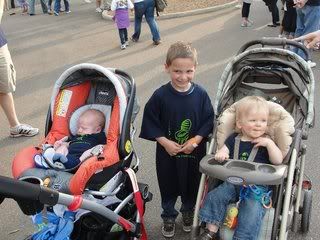 The kids! Gavin (4 weeks), Ethan, and Jude.
To all of our family and friends that joined us and donated to our team, thank you! You do not know how much it means to have you there for us! Bathroom Buddies ROCK!! ;O)
So what are you thankful for this Thursday?