Toddler Gear Review #2
***I have not been asked to review or paid by any of the following manufactures to review their items. This is simply a list of our favorite items***
I haven't given you my advice and favorites in a while because a lot of the items we are using now for Jude are adult things too. Nothing too special but in thinking about what to write I did find 4 items that I am completely in love with right now! As he gets older and older the more we are stepping away from that traditional baby aisle in the stores – so sad! Maybe time for a new baby?!?! Hehehe, oh just teasing!!
My Pal Scout – LeepFrog
As you have seen from some of my recent summer time posts we visit a cabin in the mountains pretty frequently. Well that drive to the mountains with a 1 year old is a little bit of a challenge because with traffic it can take 2 hours. The first time we did the trip this summer I happened to stumble across a great sale at Target on Scout the Dog. I had heard all about this toy but never picked it up but boy I am glad I did.
This little stuffed animal is so much more than just a stuffy – he is Jude's little buddy. You can program this toy to say your child's name, his/her favorite food, favorite color, and favorite animal. Not only does it mention these things when it talks and sings but the best part is that the toy makes up a song using your child's name too!! JUDE loves hearing his name so this is perfect! We listen to Scout all the way up the mountain and then all the way back down the mountain and Jude is content and happy. I got Scout on sale for 18 dollars – A STEAL if you ask me.
This would be a perfect 1st birthday present for any little child in your life.
Skip Hop: Doggie Back Pack and Lunch Box
Jude got the Skip Hop Doggie Lunch Box as a Christmas gift when he was 6 months old – to be honest I wasn't sure if we would ever really use it, boy I was mistaken! I loved the lunch box so much that I decided that we were done carrying a big diaper bag and went and bought the Skip Hop Doggie Back Pack to match the lunch box!
The back pack is big enough to fit all of the necessities that you need for a 1 year old and it is small enough that when he is bigger and stronger he would be able to carry his own back pack. On top of it being a great bag, it is just plain CUTE!!!
The lunch box is great too. I can fit 2-3 meals in that thing, along with a bib and wash cloth!! NICE!! It is so easy to eat on the go with this little lunch bag.
I have gotten so many complements on these 2 items because they are cute and convenient! You can purchase these items from Toys R Us or the Skip Hop website. Check them out and all of the cute different animal designs you can choose from!!
Tommee Tippe: Li'l sippee spill proof cup
We bought these sippy cups early on and didn't have much luck with them but recently we decided to give Jude another shot at using a typical sippy cup and sure enough he was able to do it! Getting so big!
I really like these Tommee Tippe Sippy cups because they have the 2 handles and it makes it so easy for Jude to use. They also do not spill! HELLO perfect for a 1 year old learning how to drink out of a cup!! And the best part is seeing Jude's face light up when he KNOWS he is doing something so big! Love that!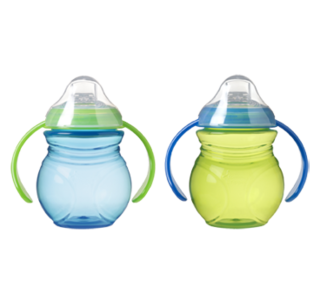 In a couple weeks I plan on using the next step (stage) up and see how he does too.
GoGo Squeez Applesauce Packs
I recently found these little packs of applesauce at Target and since they were on sale I decided to try some for Jude. I am so happy that I did. Talk about easy! And I can tell you for a fact that when we are packing for Spain I will be packing these for easy feeds while we are traveling!! No spoon and no mess = perfect travel food for toddlers!
We have tried most of the flavors but by far the favorite is the Apple Strawberry. He loves them! And so do I!!!
That ends the second edition of Toddler Gear Review for Building Our Story. I would love to hear any additions you would have!