About Mimijumi:
Mimijumi
is a design driven company that specializes in simple, safe and natural products for the modern family. Through the design and production of infant care essentials, mimijumi products are made for both baby and parent to create the most natural experience possible.
This design is based on the psychological dynamics of feeding/soothing items as transitional objects. The benefits of breastfeeding are well known, but breastfeeding is not always practical in today's society. Created with input from Designers, Mothers, Nurses, Physicians, and Lactation Experts, mimijumi's first product the Very Hungry bottle was conceived as a natural, modern and stylish complement to breastfeeding.
About the product that I reviewed:


NOT SO HUNGRY BOTTLE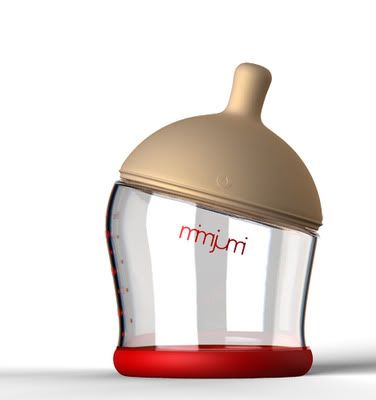 120ml/4fl oz
With natural colors, textures and forms, the mimijumi baby bottle provides the perfect complement to breastfeeding and the best possible transition to bottle feeding.
The innovative nipple design replicates a mother's breast, creating a natural feeding and latching experience for a happier and healthier bottle fed baby.
Bold colors and soft textures are combined to give the Not So Hungry bottle a distinctive, eye-catching appearance.
Our bottles are produced with the highest quality standards to protect your baby.
All mimijumi bottles are:
BPA and latex free, EA free, and exceed US safety standards.
Not So Hungry is a 4-ounce version of our award-winning bottle, perfect for newborns and smaller appetites.
Easy to open
Easy to clean
Integrated venting prevents colic
Screw on one-piece nipple
Skid-free base
Top rack dishwasher-safe
BPA-, latex-, and EA- free
Exceeds US safety standards
Not So Hungry holds 120ml or 4fl oz and comes with a Flow Rate 1 (slow) nipple
My thoughts:
Jude is no longer using bottles however I do know that I will be using these bottles for our next child. I think the best part about these bottles, besides the company exceeding all US safety standards, is the way this nipple looks.
It is unmistakable what this bottle is replicating. Even though Jude wasn't a breastfed baby (pumped/supplemented) he always did better with the wide mouth nipples for his bottles so this bottle would be ideal for nursing babies transitioning to a bottle but also great for those babies that just like the wider nipples.
I was so surprised at how sturdy this bottle was. This isn't your 5 pack of bottles you can find at any store. I can tell from just doing my research and inspecting the product that it is made with care and quality!
Connect with Mimijumi
Mimijumi on Facebook
Mimijumi on Twitter
Mimijumi's Website/Store
Want to try this bottle for your kiddo?
Here is your chance! Mimijumi is letting Building Our Story giveaway 1 Not So Hungry Bottle to one of my amazing readers! Thanks Mimijumi!
All you need to do is fill out the Rafflecopter form below! Make sure to enter all mandatory entries!
Thanks for playing and good luck!
Review Disclaimer: I received a product(s) free of charge for the purpose of this review. No other compensation was given. I was not asked to write a positive review. The opinions stated in this review are my own and may differ from yours.
/*{literal}{/literal}*/
a Rafflecopter giveaway