Welcome February!
Below are my February Sponsors! Make sure you give them love and tell them that Building Our Story sent you!
We at Building Our Story cannot wait to see what is in store for us this coming year and we hope to work with all of you at some point so if you are interested please email me at
zippinviolet01@gmail.com
.
Micki Bare

Micki Bare is the author of a great children's book called "Thurston T. Turtle Moves To Hubbleville". I am honored that Micki has decided to work with Building Our Story! Now, most of you know our love for Turtles (Jude's nickname) and that is why working with Micki has been so much fun! Please visit her sites below and make sure you check out this book. The future is bright for Micki and Thurston!
Thurston on
Amazon
Jeremy's art shoppe! Currently up and running! Check him out!
Home for Three: The Story of a World Changed by One Tiny Addition
The adventures of a little boy named Charlie with a dash of crafts, recipes, and my best attempt at home making thrown in for good measure.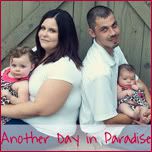 My name is Nykki, and I'm a massage therapist but currently a stay at home mommy! I am happily married to my husband, Kevin, and we recently welcomed our first baby girl, Olivia, on January 11, 2011. Expecting our second bundle on May 25, 2012! Another Day in Paradise on Facebook
Returning Sponsors the we LOVE!!!