Wednesday on the WW: Week 1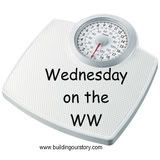 This blog hop is all about Weight Watchers.
Let's help each other on this journey by linking up recipes, successes, tips, photos and WW stories! Rules: Well the rules are easy. Just link! Link your blog posts that are all about Weight Watchers. Easy as pie! There are other ways to follow blogs such as Google+, Networked Blogs, facebook and various other options. I want everyone to link up! Grab the "Wednesday on the WW" button and put it in your blog post! I cannot wait to read all of your stories!!
My first "REAL" weigh in was last night and it was a successful first week! YAY!!
Ready for this?
I LOST 3.6 pounds!!
Fantastic. So what did I do this week? I tracked. I tracked everything. Some days were horrible – damn girl scout cookies – but other days were really GOOD days. I am proud of myself with all of the fruits and veggies I have been pumping my body full of. And some days I feel it – there are evenings that I can feel my body really processing all that produce. I am pretty sure my body is wondering what it is having to do since it hasn't had unprocessed food in awhile! LOL
I would like to share an easy lunch "recipe" that I am LOVING right now.
Laughing Cow Lite Swiss and Cucumber Sandwich.
4 Weight Watchers Points Plus
1/2 cucumber sliced = 0 PP
2 wedges of Laughing Cow Lite Swiss Cheese = 1 PP
1 – Oroweat Sandwich thins Multi-Grain = 3 PP
Add the 100 calorie pretzel pack for 3 extra points
Easy, fast, yummy lunch!
I look forward to seeing your successes this week!
Make sure to GRAB our button!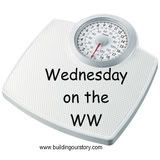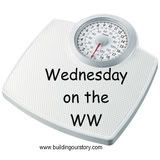 Link up here:
document.write('