This post has been compensated by Collective Bias, Inc. and its advertiser. All opinions are mine alone. #NixUltra #CollectiveBias
Who is ready for Back To School season? While I cannot believe how fast this summer has gone and sad to see our lazy summer schedule go away I am super excited to get back into our normal school routine. Oh and I absolutely LOVE Back to School supply shopping. It might be my favorite thing ever, I get that excitement from my mom! I have so many fond memories of heading to the store with our supply lists. This year we are embarking on a whole new journey with Teagan heading into Kindergarten at a brand new school. Not only will we be shopping for the requested school supplies but we will also be picking up some Nix Ultra® Super Lice Treatment.
Now, do not go running away from us, no we do not have lice currently but I want to be prepared for those suckers if we need to be. I remember the first time that we encountered lice, it was my niece who was visiting from Europe during the summer a few years ago. We never thought that we would be spending our afternoons combing through her beautiful hair trying to get all of those eggs during our vacation but that is what we did. My sister-in-law was mortified, she felt like we were going to judge her and her daughter but now that lice seem to be more talked about in schools it is clear that lice have nothing to do with the person's hygiene or living arrangements. Lice do not discriminate, they will find your child's head even if you have the cleanest home on the block. Frankly, we all need to be prepared for a lice party.
Why Nix Ultra® Super Lice Treatment?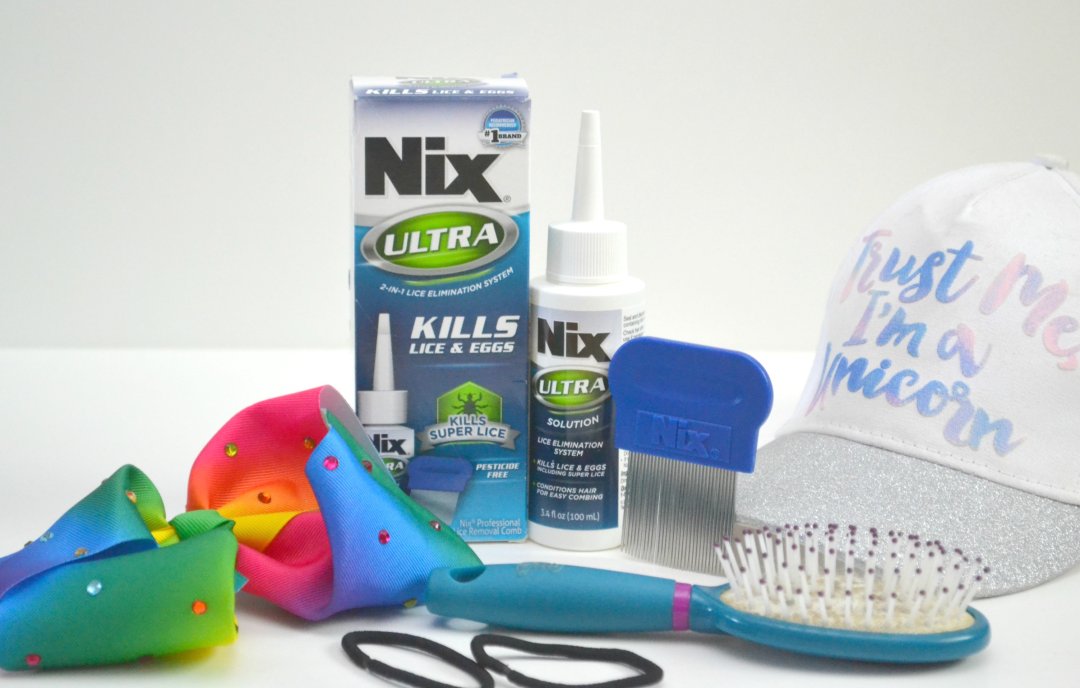 We have all heard about these SUPER lice outbreaks going through school but why is that a big deal? Old pesticide treatments can't eliminate the Super lice, but Nix Ultra® is different. Its pesticide-free formula kills lice and eggs, even the super lice. This is why Nix Ultra® Super Lice Treatment is the treatment we have on hand. Nix Ultra® is the #1 Pediatrician recommended brand, it is fast, effective, pesticide free and Non-toxic. While we have not had to use this treatment yet I appreciate that the application is said to be easy and gentle on skin.
Make sure you hover over the image above to click through to buy Nix Ultra® Super Lice Treatment from Walmart.com.
While we all wish we could hide our kid's heads from Lice that just isn't possible but there are some preventative measures that you can take as a family to help prevent lice. Teagan's hair is so long so I really do worry that one day we will be dealing with lice but in the meantime I am using these tips to prevent.
Tips For Preventing Lice
Do Not Share Hats
Did you know that lice can live for 1-2 days without a host and can be transferred through hats, helmets, headbands, headphones, costumes and clothing? TRUE!! Make sure you teach your children to not share these items while with friends and at school. Kindly ask your children's teachers to not have these items shared in the classroom as well. Teagan loves playing dress up with friends but we do need to make sure that those costumes are not shared…a difficult lesson for little girls.
Check Those Heads
Take time to check your children a few times a month and look for those nits. Another fact, it can actually take 6 weeks for itching to start, this is why it is important to do these simple checks making sure to examine their hairline and behind the ears. I have made it a habit to check Teagan while I am brushing her hair.
So Fresh and So Clean
Wash their hair! Now, like I said, Lice can find the cleanest of heads to start enjoying but with Teagan's long hair I know it is important to keep her hair clean and brushed out. I have read that lice do not like certain smells like tea tree oil, lavender, lemongrass and citronella. You could find a shampoo for your child with these scents for some added prevention.
Brush Friends
Just like you should never share hats or costumes you also should keep hair brushes separate. Obviously, lice can be transferred via hair brushes. One tip would be to keep each hair brush in a labeled ziplock bag. Everyone has their own bag of hair accessories and brush. Easy enough! The organizer in me loves this idea for so many reasons!
Tie It Up
We keep Teagan's hair up in a ponytail or braid everyday because if we don't she ends up with a rats nest of knots by lunchtime! But I have also read that people with long hair are more likely to get lice than those with short hair. Keeping their hair tied up may lower the chances of a lice infestation.
Be Prepared…It Can Happen To You
Look, we never want to think about having to shave heads or combing out nits for hours but the fact is, these super lice can find a way to anyone's head. By simply having the Nix Ultra® Super Lice Treatment on hand you can get to work faster and say goodbye to those little creatures.
The Nix Ultra® Super Lice Treatment can be found in the pharmacy aisle at Walmart near the band-aids and first aid items. While lice might not be on your mind right now, it is just another way to be prepared as this new school year begins. Add Nix Ultra® Super Lice Treatment to your back to school shopping list now.
Before heading to Walmart make sure you print off this great coupon that is good for $3.00 OFF any ONE (1) Nix Ultra® product. Coupon offer valid through 3/31/19, to save on Nix Ultra®. Once the coupon is printed an expiration date will be generated, so be sure to pick up your Nix Ultra® product within 2 weeks!
For more tips and to stay up to date on lice in your area, follow Nix Ultra® on Facebook!
Have you or your children experienced lice before? What tips would you add to this list?