This post is sponsored by Sivan Social. All comments and opinions are my own.
It's time to join the favorite Monopoly shopping game – Shop, Play, Win with Monopoly! Monopoly game happening now at Safeway stores – learn about the game, check out the prizes and PLAY now through May 4th, 2021.
Shop, Play, Win! Time To Have Some Monopoly Fun!
I have a serious question for you. Do you enjoy grocery shopping? Be honest. I have mixed feelings about my weekly grocery shopping, but mostly, it gets kind of old but when I add a game to the mix, I find myself excited to go grocery shopping. I don't know about you but I love the game Monopoly, sure it can go long and some people take it super serious but overall, it really is a great game. Guess what…you can add Monopoly to your weekly grocery shopping trip!
The Details About Shop, Play, Win!
The Albertsons family of stores, (ACME, Albertsons, Albertsons Market, Carrs, Jewel Osco, Market Street, Pavilions, Randalls, Safeway, Shaws, Star Market, Tom Thumb and Vons), wants you to shop, play and win! If you are like me, you frequent at least one of these stores to get those groceries. Safeway has been a grocery store that my family has shopped at since I was a child, a grocery store that I trust and enjoy shopping at. That makes it even more fun to play – earn game tickets when you shop at your favorite grocery store! YES PLEASE!
Download The Shop, Play, Win! App Today!
Once you find the Shop, Play, Win! app in the app store it is time to go shopping. There is no need to keep a paper board game anymore. Everything is tracked via the app. So easy! As you walk through the store and pick up your grocery items you will see some labels on items that share if the item has a bonus ticket. Give me all the tickets!!
Simply shop and then check out, your cashier will hand you the tickets and off you go! Now comes the fun part!! Simply open the app and scan the tickets. You will either win instantly OR get to play the Match 3 Game. Look, I love to win instantly but I really had fun with the Match 3 Game too.
You win something no matter what and your winnings are added to your Just For U account so you can use your rewards on your upcoming visits. You will also have the opportunity to add your earned tokens in for Sweepstakes entries.
Let's WIN!
When I walked into my Safeway store I got excited to see all of the fun Monopoly signage through out the store. Not to mention that just by doing my normal weekly shopping I was able to collect 18 tickets! Look, I might be 38 but when the gal handed me my tickets I got giddy and wanted to get home ASAP to start scanning and see what I had collected during my weekly shopping trip.
Learn more about the Shop, Play, Win! Game here.
Make A Game Out Of Your Shopping Trip
Have you started making your shopping list yet? Do it now, download the app and go shopping. I am getting really excited for my next grocery shopping trip this week…leave it to Safeway to make it fun!
Visit ShopPlayWin.com to have a chance to win $230,000,000 in prizes and money saving offers from participating stores March 3rd – May 4th!
More Ways To Win!
While the Monopoly game is super fun, who doesn't love other ways to win prizes and saving money? Start checking the mail because you will get the Valpak soon and it is one you are going to want to check out. Open your Valpak envelope to see if you're an instant winner of a $100 gift card and to get more details on how to win groceries for life! Goodness knows we could all use some extra cash and free groceries!
Savings.com's #GoShopPlayWin Gift Card Giveaway
Click on the image below to enter this great giveaway today! Enter for a chance to win a $100 Gift Card to spend at any of the Albertsons stores!
Giveaway Details:
Wednesday, March 3rd at 12:00 AM PT to Wednesday, March 31st at 11:59 PM PT.
Sixty (60) winners will receive a $100 gift cards to spend at Albertsons Companies stores.
Users enter the giveaway by heading to the Albertsons merchant page on Savings.com and submitting their email address on the form on the page.
The winners will be chosen through a lottery drawing and notified on Thursday, April 1st via the email address they used to enter.
See complete Official Rules for entry instructions, full prize descriptions, restrictions and other important details.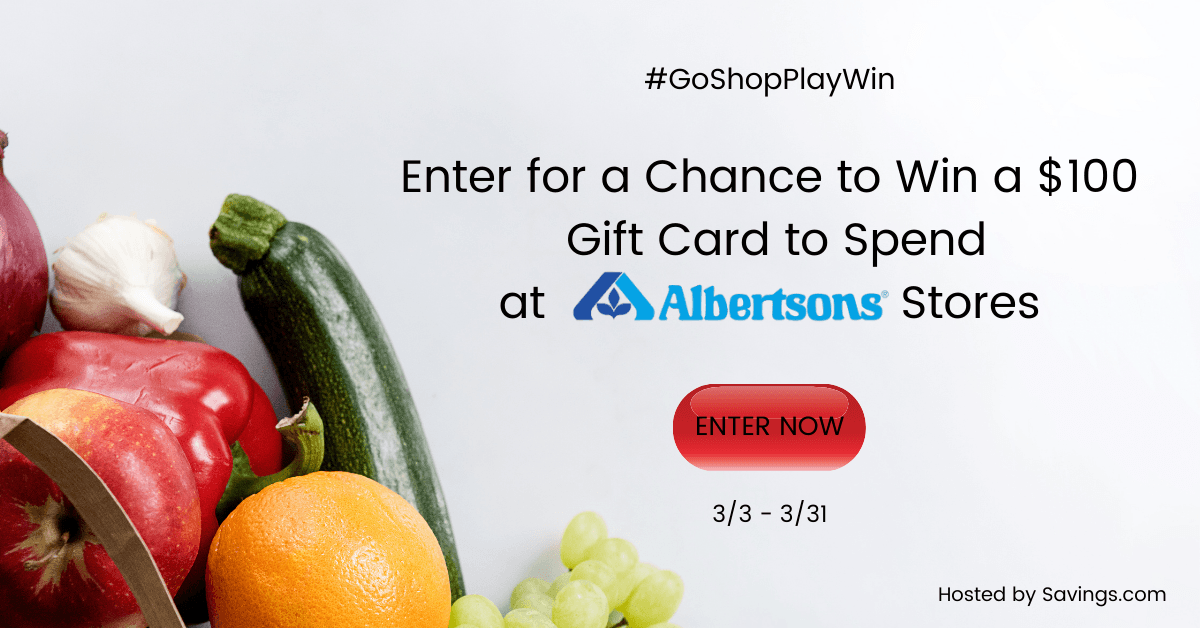 Join The Party – Thursday, March 25th at 10AM PT/1PM ET
Join the #GoShopPlayWin Twitter party! We'll be talking about the Albertsons Shop, Play, Win! Monopoly game! There'll be $500 in gift card prizes up for grabs, so be sure to RSVP to be eligible to win!
Hashtag: #GoShopPlayWin
Prizes: (5) $100 Albertsons Companies gift cards. All prizes are sponsored by Albertsons Companies.
RSVP: Enter Information Here.
Time for you to earn some tickets to play! Do you enjoy playing games like Shop, Play, Win!? I hope you win some great prizes and savings from now until May 4, 2021!!
NO PURCHASE NECESSARY. Game tickets end 5/4/21. Must be resident of an eligible U.S. state listed in rules; 18+. Visit www.shopplaywin.com for full rules, incl. how to enter without purchase. Series MON-14. MONOPOLY™ & © 1935, 2021 Hasbro, Pawtucket, RI 02861-1059 USA. All Rights Reserved. TM & ® denote U.S. Trademarks. Hasbro is not a sponsor of this promotion.