Back-To-School shopping made easy with Justice! Shop online or in-store to stock up on those must haves for school. Don't forget to pick out a perfect first day of school outfit too!
This post is sponsored by Sivan Social. All comments and opinions are my own.
Back-To-School Shopping With Justice
The kids are itching to jump back to school, meet their teachers and hang out with their friends but before that all happens it is the most wonderful time of the year!! NO, not THAT time – Back To School shopping time!! I have to admit, back-to-school shopping has always been one of my favorite things to do, yes even as an adult. We need new pencils, notebooks and fun supplies but what I loved the most was picking out that first day of school outfit.
Shop Online or In-Store With Justice
Jude is 11 and in true pre-teen form he could truly care less about what he wears as long as he is comfortable. Teagan on the other hand is the complete opposite. This girl wants to be dressed in the newest trends from head to toe every day. This is where Justice comes into play! If she had her way, she would literally buy the entire line of clothes in her size which means I have to reign her in a bit.
We loved shopping in-store but we do not have any Justice stores around us anymore so Teagan is super thankful that we can do our shopping right from our home. To gear up for a great school year I make sure I put the essentials in our shopping cart but then let Teagan…my little fashionista, have a little fun!
Back-To-School Essentials
From this type A mom (yes, hello nice to meet you!) I have a few essentials that I believe all kids should get as they start a new school year.
Socks
Thankfully the trend is to have mismatched socks but it drives me crazy to not have pairs! So, new socks is a must every school year! Throw out the old socks with holes in them! I especially love these fun colored socks for girls. Adding a little pop to whatever Teagan decides to wear!
Pajamas
Not only are new PJs an essential to make bedtime a little easier but we all know that at some point during the school year we will hear that "Tomorrow is Pajama day at school!!". You MUST have at least one pair of PJs that you kiddo can wear to school on hand!!
I always go for long pants just in case it is chilly out on that PJ day. These sets are great for all year round and come in some fun colors and silly says. Perfect!!
Graphic & Plaid Girls Pajama Set – NAP QUEEN!
Shoes
Do your kid's feet grow super fast? Mine do! So new shoes for school is a no brainer. I like to have Teagan pick out a pair of sneakers that can go with just about any outfit she decides to wear. These Rose Gold Lace-Up Hi-Top Sneakers are the perfect shoe! Comfortable for recess but totally in fashion (per my fashionista!).
Under Thangs!
Just like shoes…underwear is a must update and this year I am finding that Teagan is also requesting bras…because all of her friends are wearing them too! I honestly cannot even believe we are at this stage but here we are. Justice has a great selection of bras and underwear that are great quality but also appropriate for Teagan's age.
Backpack/Bag
I loved picking out my new backpack every year but mine were never as fancy or pretty as the ones that Justice has! Their bags come in all sizes with a ton of color and style options. We especially love this floral backpack. Super pretty and sure to stand out this school year!
I love that Justice has so many options to choose from and even the essential items bring a little flair to Teagan's closet.
Teagan's Top 5 Back-To-School Favorites!
I asked Teagan to browse for her top 5 Back-To-School items. That was not a hard task for her and it was super easy to fill our online shopping bag with some great looks for heading back to school!
Tie-Dye Tie Front Girls Tee and Scrunchie
Teagan LOVES all things Tie Dye so this top is perfect for. The pretty colors will wear well and the Scrunchie is an extra treat for my accessory loving girl. I love the tie front detail and the price is perfect. We ended up getting a few of these tops.
Buy the Tie-Dye Tie Front Top here.
Jumpsuit
Give Teagan a dress or a jumpsuit and she feels dressed up and ready to take on the world. This adorable Floral Belted Button Front Girls Jumpsuit is so cute! I love that it is summery but has long pants for those fall days we are wishing for! This looks super comfortable for active kids like Teagan.
Buy the Floral Belted Button Front Girls Jumpsuit
Leggings!
This girl loves her leggings. Every color and design! She is not big on jeans so we buy a lot of leggings to get through the school year in style and comfort. Justice has so many fun designs and colors. This one might be my favorite too!
Buy Patterned Full Length Girls Leggings
Hoodie
Sure it is still super hot out but once school starts it is important to have a nice hoodie to take with you to school. Teagan loves this floral zip-up hoodie. It is fun and colorful.
Buy Patterned Zip-Up Girls Hoodie
Skirts
Put the leggings away and jump into a skirt for the day. Teagan loves these simple but colorful skirts because they are comfortable but also because they are easily paired with her favorite t-shirts. Plus…check out the price!!
Back-To-School Giveaway!
Look, we all know that while this is the most exciting time of the year, it can be a hit to the budget! Enter Savings.com's #BTSwithJustice giveaway for a chance to win one of five $100 e-gift card prizes to spend at Justice.
Giveaway Details:
Giveaway is live Monday, July 26th at 12:00 AM PT to Thursday, July 29th at 11:59 PM PT.
Five (5) winners will receive a $100 e-gift card to spend at Justice.
Users enter the giveaway by heading to the Justice merchant page on Savings.com and submitting their email address on the form on the page.
The winners will be chosen through a lottery drawing and notified on Friday, July 30th via the email address they used to enter.
See complete Official Rules for entry instructions, full prize descriptions, restrictions and other important details.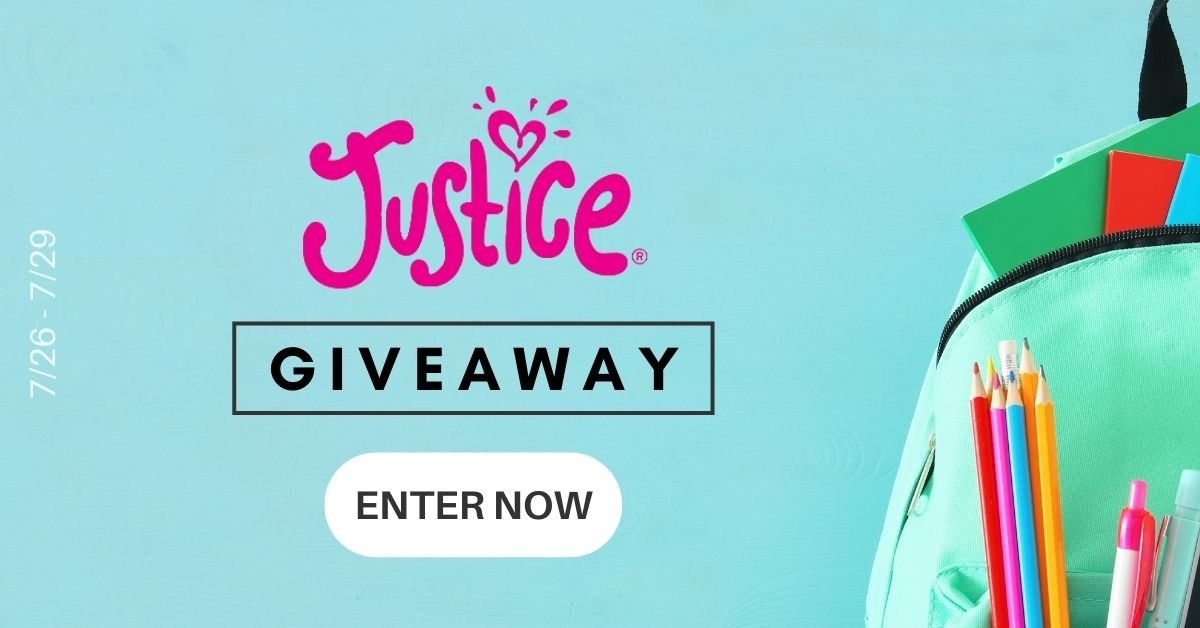 What clothing items are your kids most excited to buy this school year?