The Rockies played game 2 last night and they won! So the series is all tied up at 1-1 and they are headed home for game 3 tomorrow. woot! Go Rockies!! Tomorrow the game will be COLD!! Game time is 6pm and the temperature is supposed to be only 28 degrees…burrr!! We really wanted to go to the game but with that temperature I am silently happy that we will not be outside. Sorry honey! ;O) So for those of you with out a team to cheer for give a shout out to the COLORADO ROCKIES!!!
So what did you do last night?
We hit the gym for the first time this week. Bad!!! But I worked out for 1 hour so that was good. I felt great afterwards, I love that!
After our work out we had a decision. Grey's Anatomy vs. The Office. Well we chose The Office. It was a good choice.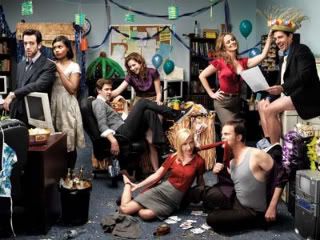 The Office wedding was very funny. And of course they had the addition of the youtube phenomenon that makes everyone laugh and wish they had thought of that. Classic!
Tonight we will catch Grey's on Hulu. Got to love Hulu!! And on top of that we have to find a free website to watch Dexter too. We have missed 2 episodes so far. Time to catch up with out paying for Shotime!
Weekend Plans: Nothing planned!! Yes!! We have plenty to do around the house and some shopping to do but the only thing that is on my "To Do List" is sleeping in!! Yes, sleeping in. Not only do I get to sleep in on Saturday and Sunday but also Monday. Jeremy has Columbus Day off (Monday) because he is a Federal employee so I decided to take it off with him. Yay for a 3 day weekend!!
Well I hope everyone has a wonderful weekend. Like I said before, it is going to be a cold one here in Colorado but it is about that time to enjoy some snow. Bring it on!