I think it is done! Well until we decide how to organize the closet.
Pun-kin loves the new baskets, he knows we bought them just for him to sit in and take naps in.
Our hard work paid off. The vinyl script was a pain to get on the wall but we love it! Winnie the Pooh decals look great as well. This is above our long dresser/changing table.
More Winnie the Pooh decals…cute!!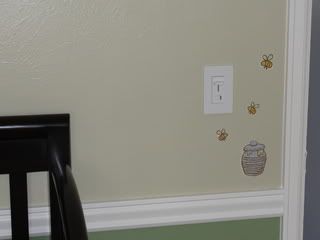 Hunny pot and bees. Adorable.
Upclose!