On October 28, 2009 I took a pregnancy test when I got home from work and it showed I was pregnant! I was so shocked, I didnt even think it was going to be positive but it was! I was so happy but not really sure if it was correct. I didnt tell Jeremy about the positive test that night. It happened to be a really snowy evening which ended up being a snow day the next day – October 29th. I got a snow day, Jeremy didnt. I took another $tree test that morning and sure enough, positive! I decided it was time to spend the big bucks, so I braved the weather and headed to Walgreens to get a digital test. On the way home I decided to stop at Kohl's and buy a cute baby outfit for surprising Jeremy if the digital test came back positive too.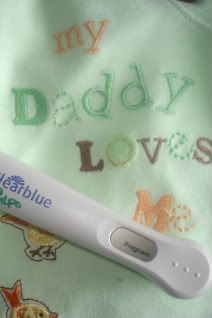 I left this on the kitchen table for Jeremy to see when he got home! I was so excited to see his reaction! He cried. It was so much fun. We couldnt wait to tell our parents – so we went over to my parents and let them know. Tears and screaming! It was great. That night we got on the webcam to let Jeremy's folks know too! More tears and screaming!!
The planning began. The excitment set in. And the constant nervousness was there. We were expecting a baby! We had no idea how blessed we would be. We are so in love with Jude and couldn't see our life with out him now.
Estimated Due Date = 7/10/2010
Real time arrival – 6/25/2010
We love you baby Jude!!