Many of you are probably wondering how Jeremy is doing so I will do a little update for you all.
Thankfully Jeremy came home on Monday September 27th. He was in the hospital for almost a full week! Crazy!! He came home feeling a TON better than what he felt the day he was admitted. We are so happy he was finally admitted to the hospital. With the help of IV steroids and fluids and just plain old rest he is doing so much better.
He is still on the prednisone right now because you have to do a tapper to come off of that stuff. He has been home for 4 days now and we are getting back into a routine so that is nice, I am sure that helps him feel more normal now too. He started a new medication called, Humira, on Monday so we are really hoping and praying that this medication works well for him so he is able to get this Ulcerative Colitis into remission and have a better life of normal bathroom trips and outings!
Our life has been consumed with this disease lately and because of that we are both taking an active approach to try to make our conversations about anything else other than this!! We both have become somewhat depressed and just emotionally exhausted from this experience in the last couple months and because of that we are trying really hard now to make our lives more about family and having fun! One day at a time!!
The 3 of us are doing well and we are so happy that Jeremy is feeling better and with much prayer and positive thoughts we are hopeful that he will be in remission soon.
We want to thank all of our family and friends for the pour-out of support and prayers. Last week was rough but through it all we knew that we were loved!
THANK YOU!!!!
xoxoxoxo,
Censie, Jeremy and Jude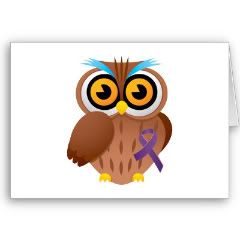 Ulcerative Colitis/Crhon's Disease Awareness Owl