This is late, I know that! It has been so crazy lately at home and at work so better late than never right? :O)
Jude celebrated his very first Thanksgiving in Arizona with Grandma and Grandpa Sawyer and Great-Grandma Bangert. It was a great day! Well a great week vacation. More pictures of our vacation in another post to come.
So here is our Thanksgiving! Which was also Jude's 5 month milestone! What a busy little man.

Come on people…time for my sweet potatoes! I am ready to eat!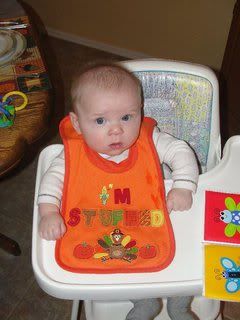 My special bib from Grandma and Grandpa! So true. Jude ate A TON of sweet potatoes for Thanksgiving dinner, we figured he could indulge since we all were too!

Happy Thanksgiving!!

Grandma and Jude. Such a special day!

Mommy and Jude, waiting for dinner.
It was a great day with a ton of visiting and a ton of food!
Happy Thanksgiving!!