Today I am thankful for my husband, Jeremy. He is the love of my life, my baby-daddy (lol) and a talented man.
He doesn't show this side of him often but once a year he breaks out the paint and creativity and starts on his hearts.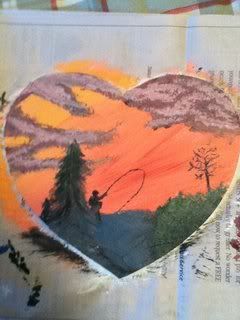 A local art gallery called CHAC (Chicano Humanities & Arts Council) that we frequent puts on a wonderful event every February that any local artist/person can enter hearts in for the silent auction. All proceeds go to CHAC. It is a fun evening and we always walk away with fun art in the shape of hearts!! Love it!
Milagros del Corazon (Miracles of the Heart)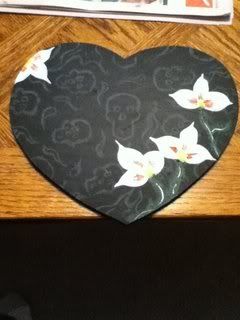 Jeremy really should do more with his artistic abilities, don't you think?
He is going to be embarressed that I shared these but I don't care!
If you are in the Denver area, stop by on Saturday February 12th. Here is the information… CHAC's Milagros del Corazon is finally here! This year our 12th annual silent auction fundraiser is one to surely look forward to as we present it to you in partnership with our new neighbor SU TEATRO!

You are cordially invited to attend our celebration & fundraiser!
Saturday February 12th, 2011 from 6:30-9pm at Su Teatro 721 Santa Fe Dr. Denver, CO 80204. Tickets $10.00 each or $15.00 per couple at the event or in advance by calling CHAC at 303-571-0440.
Join us for our silent auction that will feature hundreds of wonderfully designed hearts created by several local Denver Artists, schools and our community supporters! Choose from numerous wonderful donated original art pieces, gift baskets and services. Light appetizers and cash bar.
Join us to celebrate Valentine's day and help support CHAC's year round cultural art and community outreach programs.