Okay all you Mommies out there, I need your advice!
So we are only a family of 3 right now – planning on at least 1 more addition to the family in the future – but we are already feeling the squeeze when it comes to transportation.
Let me explain.
Right now I drive this:

2002 Honda Accord 4 door – I love it!! Great gas mileage and it has been a very good little car for us for the past 8 years.
And it does us well. The 3 of us can scoot around town and have no problems. That is until we have more than 1 other adult with us in the car.
That "Big Boy" car seat sure does take up a lot of room in the back seat. Yikes.
Now this usually isn't a problem but we noticed it a lot this weekend when Jeremy's parents were here for a visit. In order for the 5 of us to go anywhere together we had to either take 2 cars OR borrow my parent's minivan. Umm…annoying!!
Now, I realize that they do not come to visit THAT often so this isn't that big of a deal BUT let me give you another situation – going to dinner with my parents.
Well yes, they have a minivan but my dad is getting rid of that soon. What will we do then?
I know that we cannot afford a HUGE car payment and I would really miss my small little car and I feel rather stupid driving/buying a big car for 1 child! Plus with gas prices going sky high – Oy, I just don't know! HELP!!!
And I worry that most SUV's have just as much space in the back seat as my car.
Any suggestions on maybe a larger sedan or is our best bet to go big or go home? LOL
Here are some other cars that Jeremy has brought up to me.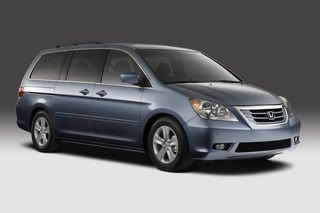 Honda Odyssey – so pretty! And I love Hondas but it is a van. Not sure if I am THAT mom!

Nissan Moreno – LOVE IT!! But is it that much bigger in the back seat? And $$$$$!!!

Wow – HUGE! Chevy Tahoe! Yikes Maybe too big for me!
So there you go, now it is your turn. What do you drive? Want to drive? Or HATE to drive?