You would say
Brooklyn!
here but I say Rockabye Baby!
My baby loves to Rock! Especially while he is sleeping and drifting to sleep.
Seriously, Jude loves music. And because his father, my wonderful husband, is a HUGE music buff Jude is only allowed to listen to "great" music. "Great" by Jeremy's standards, that is.
Thankfully there is Rockabye Baby!! All 3 of us LOVE all of the Rockabye Baby CD's we own and we continue to buy more.
The most recent one we purchased is the Weezer CD – we have not received it yet and we are anxiously waiting.
When we saw that Weezer was being "covered" we were ecstatic because a Weezer concert was the first date Jeremy and I went on together. Awww..so romantic, I know! That was almost 9 years ago! Crazy. But we have always gone to any of the Weezer concerts when they come to Colorado because of that special memory and because they are amazing and fun!
Bottom line, once that CD comes Jude will be listening to it…oh and so will Mommy and Daddy! Thank you Rockabye Baby!!
Our bedtime routine includes any of the Rockabye Baby CDs, we pick one for the night and start playing it when we are getting PJ's on and bedtime bottle fed. Then we keep the CD on repeat for the WHOLE night. Jude wakes up the minute the music stops so it is a MUST for the music to play continuously! Like I said above – NO SLEEP TILL ROCKABYE BABY!! YEAH!
We still use a baby monitor for his room which means Jeremy and I also get to listen to great music all night long too! Hello white noise!
Here are some of our favorites – really there are not bad choices! So go look!

The Beatles – of course one of our favorites because we are a Beatles family. Even "Hey Jude" is on this one. I love singing with the tune for this one.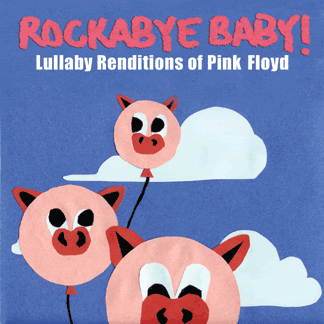 Pink Floyd – great songs and amazing melodies.
So if you are trying to find a fun gift for that father-to-be or a ROCKER mommy-to-be you MUST check out this website and their selections of baby lullabies. This is a new parent must have! They are great for any age. We started using these CDs when Jude was just 2 weeks old. Perfect.
Jeremy is hoping his son will be a music buff just like him, I don't doubt that it will happen!
Make sure you head on over to Twitter and follow them: @Rockabyebaby
Oh and Facebook too: Rockabye Baby Facebook Page

Again – MANY MANY thanks to Rockabye Baby for making our sleeping so much better. We all thank you!
***Don't forget to enter the CSN Stores Givaway! ***