My first Mother's Day (weekend) was full of fun and love.
Jeremy and I decided that on Mother's Day and Father's Day weekends we would make the Saturday before "the" day a traditional family only day.
So I decided that for my celebration we would go to brunch and then spend the afternoon in the lovely summer weather at the Denver Zoo.
Saturday we got a pretty early start due to Jude not liking to sleep past 6:30!!! Thanks Turtle. So off to brunch we went, really it was more like breakfast because it was early. Whatever.
I decided on The Cracker Barrel. I love that place.
We had a little bit of a wait before we got a table so we enjoyed some time on the traditional Rocking Chairs. Jude had fun!! So much fun that someday we might have to invest in a Rocking Chair for our backyard. ;o)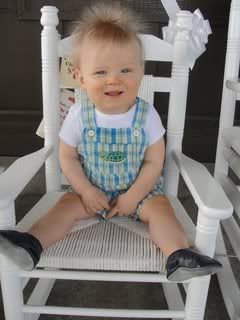 This was the smile we had all morning. I love him so much!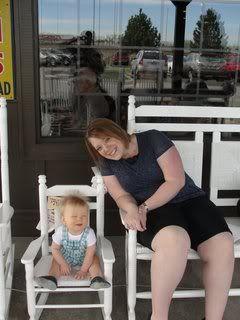 Mommy and Jude on the Rockers. Happy Mother's Day to me!!
So after we ate, we headed down to Denver to the Zoo. The weather was perfect. Shorts weather in May! Crazy right?!?! The animals were not very active because of the HOT weather but it was still a great day to walk around and get some sun and exercise.
We decided that it would be a perfect day to ride the Zoo Train for the very first time together.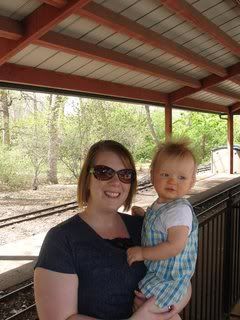 Mommy and Jude waiting for the train!

Daddy and Jude were ready for the train to arrive!! Hurry up!!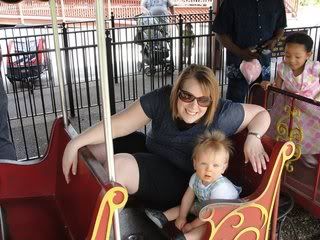 Finally…on the train!! Doesn't he look adorable in this picture?!?!

Okay, this face is TROUBLE!! He melts my heart!! I am one very proud Mommy!
Jude loved his afternoon at the Zoo and so did I! The best Mother's Day present I could have asked for – time with my wonderful husband and my adorable little turtle.
Here is a picture of Jude and I on Sunday, Actual Mother's Day!
As you can see, we are both a little tired and got some sun at the zoo the day before.


Thank you for being the best Son a Mom could ask for Jude! I love you!!