OUR ARIZONA VISIT
Well lets start from the beginning…
(warning – picture OVERLOAD!!!)
The plan was to have a long weekend in Arizona with Jeremy's parents – time to relax and have them get some Jude time in. Well we were pleasantly surprised by Jeremy's sister, brother-in-law and niece being in Arizona too! This was all planned and we were the only ones that were in the dark – SURPRISE!!!
Heidi really wanted to see Jude before he was 1 year old so the decided to make the trip from Holland to the States just for us.

Jude with his cousin Elora – they met for the first time on this trip and they had a great time. It was so fun to see them play with each other. 🙂 Jude wanted to follow Elora around all the time.

Elora even helped Jude drink his water. Little momma! lol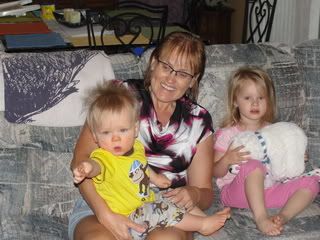 Grandma with the kids – still in PJs. Great way to start the day. Grandma was in heaven!!
One day during our visit we went to this great park and had a fun time. Especially on the swings!

Jude loves swinging! He did this for almost an hour!!

PRICELESS! Grandma, Elora and Jude – cuddle time.

Cousins!! So adorable!!
Well – I have more pictures but I will leave those for another post. :O) We had a great time with the ENTIRE family in Arizona.