1 year ago today this is what we were doing. I honestly cannot believe that today we are celebrating Jude's 1 year birthday. It went so fast and we have had so much fun. I can only imagine what is in store for us in the next year.
We love you Turtle! Happy Birthday little man!!!
Birth Story:
On Thursday June 24th, I started to notice that I was able to time my PMS like cramps. This started at 11am at work. I had a regular scheduled appointment later in the day so I wasnt too worried about the crampy feelings. At work they were about 8-10 minutes apart and I was able to talk and move and work so again, not concerned! I went to the restroom at around 1pm and I had a huge blood clot in my underware. Scared me!! I hadnt had any bleeding while pregnant so I was scared. I went back to my desk and called Jeremy to let him know I would be calling the nurse line. I called the nurse line, they told me that I could go in early for my appointment just to check me out.
I got to the doctor around 2pm. I was checked internally at around 2:15. I wasnt dilated at ALL!! Completely closed! I was 40% effaced though. The doctor said that I was probably in early labor but not in active labor. After the internal check the doctor did say that she was worried about the blood because it was more than what they usually like to see. I was sent for an ultra sound to check to see if the placenta was breaking down, it wasnt. The baby looked perfect. After that I was send to do a Non-stress Test. This took 20 minutes and those "cramps" they werent cramps, they were contractions! LOL They were now 5 minutes apart, Jeremy and I started getting worried – like should we be going to the hospital?? The doctor said no, the contractions were only lasting 20-30 seconds and not strong enough. So I was sent home around 5pm. Jeremy and I went to dinner with my parents and the contractions were getting worse but still nothing that took my breath away. We went home after dinner and did some little things around the house. Jeremy got the car seat in the car and I made sure my bag was all packed. Around 9:15pm I decided that I needed to shave my legs, prioties – I KNOW!! ;O) While I was shaving another HUGE blood clot landed in the tub. I was done. We called the nurse line again, this nurse said being that this is my first baby I should go in. So we went in!!!
Got to the hospital at about 10pm. At 10:15pm they checked me – I was 100% effaced and at at 3! In a matter of hours I had progressed to a 3! Crazy! Well they couldnt admit me at a 3 so I had 2 hours to walk and get to a 4 or a 5. So Jeremy and my mom and I walked those halls for 2 hours. The contractions were getting harder and harder. When I would get a contraction I would have to stop and lean on the wall or counter top. By 12:15am (Friday the 25th) I was at a 5!! YAY!! Admitted!
Us after I got the drugs!!!
By 4:30am I had had enough of the pain. I got the epi. It was the best choice I made. I made it to a 7 and I am proud of that! I slept until 6:30am. At 7am they checked me and I was at a 10 but my water hadnt broken. Because of the shift change they waited until 8:30am to break my water. At 9:35am I started pushing and at 10:57am Friday June 25th Jude Robert Sawyer was born!!
He is here!!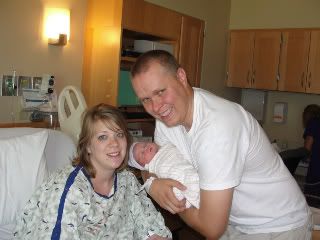 Our Family.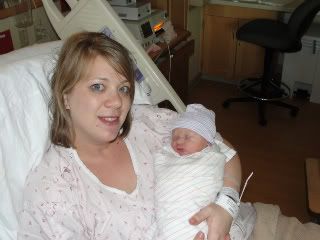 Me and my baby boy.
Tummy time with Mommy.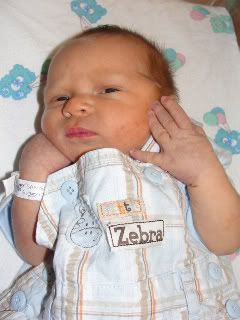 Jude in his going home outfit…it was a little big but so cute on him.
All ready to go home!
As you are reading this we are having a blast at his party – pictures to come soon!!
HAPPY 1st Birthday Jude!!!