I never thought this day would come but we are here. Already – I know, everyone always says this but IT REALLY DOES GO FAST!
Jude will be 1 year old in just a couple of days and we are well aware of him being ready to eat "table food". He lets us know by him throwing food on the floor or by him completely resisting the spoon of baby pureed food! Lovely!
So here we are, trying all sorts of new foods for him. I am nervous, yes you read that right, nervous. For the past 6 months we have been on a pretty strict schedule of 2 jars of fruits and 2 jars of veggies every day for this growing boy well now that we are moving away from the easy to use jars I am really stressing about what to give him. I want to make sure he has a balanced meal every meal but also allow him to try all kinds of new foods.
We have tried the following:
Lunch meats – ham and turkey
Shredded grilled chicken
American Cheese
Bread
Mandarin Oranges
Peaches
Pears
Gold fish crackers
Black olives
Fruit cereal bars
Pasta – not a fan
Cooked Green beans – not a fan
Cooked carrots – not a fan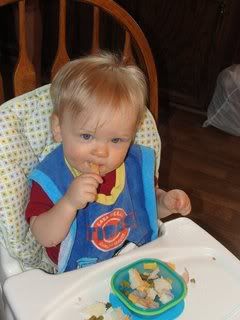 As you can see, this boy gets plenty of protein and fruit but those darn veggies!! HELP!! I need more ideas.
So if you are a mommy of a table food eater please send me your ideas!
Jude thanks you! :O)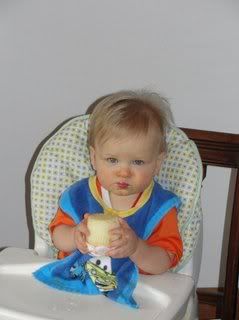 Oh he does like cupcakes too – although that probably doesn't really go with the whole "balanced meal issue"! Adorable though right? This picture was from an early birthday party we had for Jude with some family.
Cupcakes he can do! Perfect size for a Turtle!