Y3W: Arizona Take Two!!
More pictures from our family trip to Arizona. :O) Picture takin fool!! Thats me!!
We all went to the Arizona Diamond Backs baseball game (baseball is HUGE in Jeremy's family!). The D-backs won so everyone was happy! Thankfully in the 90 degree weather and sun the dome was shut so we didn't even have to worry about sunscreen or being hot! YAY for Arizona baseball! LOL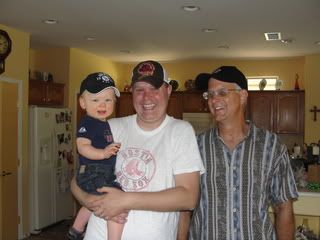 The boys and their hats! Yup Jude FINALLY kept his baseball cap on!! YAY! Jude!

It was a long walk to the field, someone fell asleep! :O) Adorable!

Daddy and Jude waiting for the game to start.

Towards the end of the game Jude got a little sleepy. Cuddle time with Grandma!

Elora, Marc and Heidi – yummy lunch at the field! Elora's first baseball game!

Mickey was at the baseball game!!!!

Reading with Great-grandma. Special memories!
While we were all together Aunt Heidi and Uncle Marc wanted to celebrate Jude's birthday so our lucky little man got to open presents. His big cousin Elora helped. It was so cute and so much fun!

Yup he is still in his PJ's too!

A new book!!

GO ORANGE! Jude is set for soccer season now.

Aww he loves his new puppy! Woof Woof is what he says to it now.

Jude the Soccer player! He is adorable in this jersey and shorts outfit!
Well that finally ends all of our vacation pictures. As you see, we had a great time with the family!
Happy Friday!!!