GOING TO SPAIN!!!!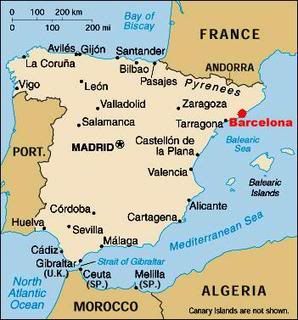 Barcelona to be exact! Yup, you read that right, we are heading to Barcelona Spain in September for a family vacation!! The airline tickets are bought so it is official. After I blew into a brown paper bag from the anxiety of $2300 plane tickets I got excited! I am excited! Okay, honestly I am a little nervous about a 10 hour flight across the ocean with a 15 month old BUT besides that I am excited!
The other day we went to the city building to apply for Jude's passport so that is done too – now just waiting on it to be mailed to us. I think it is so funny that this 1 year old will have a passport! So funny, pretty sure it is the only time he will use it but its okay. Something to put in the baby book I guess.
We really do not have any set plans for the trip yet BUT I do know that we are planning on sitting and relaxing on the beach and possibly going and seeing a bull fight (Jeremy's request!) LOL! We would also like to see a FC Barcelona game (for those who are not futbol fans that is the Barcelona soccer team!). Talk about jumping into the culture! I cannot wait!
More to come on this future trip – until then please keep me motivated in my weight loss journey, you see that above I mentioned a BEACH!! I have 3 months to get myself in gear! Let's do this!!
PS – Jude turns 1 in 15 days!!!!!! Holy crap!!!
Link up here!