1 year check-up and stats – finally I know!
First here are some of his professional 1 year pictures. They turned out great, I wish the others would have scanned better but these are the only ones that looked okay to post. Oh well. I love the lady that takes his pictures, she is great!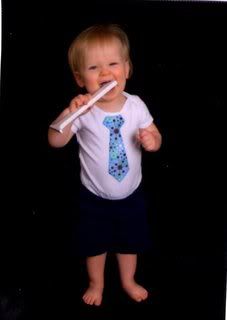 Yesterday we had Jude's 1 year well baby check. It went great. We got praises from the doctor on how well he is doing and how well we are doing too! Always nice to hear that from a doctor. He passed his gross motor skills test with flying colors and even showed the doctor how friendly he really is by reaching up to him for a hug! Adorable. I love our doctor because he immediately scooped him up and gave him a hug.
We also got the okay to stop using formula and move on to cow's milk – I thought we would be buying Whole Milk but he actually said that most babies do not need that extra fat so 2% or even 1% is great for Jude. We will be doing 2%.
I also asked about bottles and sippy cups. He wants us to have a goal of no more bottles during the day by the time he is 18 months old. So we will be working on that ASAP! I honestly want to give Jude that bedtime bottle until he is about 2 – I know other people have differing views but it is something that I know has a great connection for me, Jeremy and Jude. It is a special time for us. So our goal is to stop day time feedings with the bottle and introduce the sippy or straw cup at all meals with the 2% milk.
Okay what else – oh the car seat. Because of his age, height and weight we can turn the car seat if we like. He said once his legs are crunched up in the seat back it is time to switch, he is fine in my car but in Jeremy's smaller car he is getting a little crunched so maybe in a month or so we will turn him in Jeremy's car.
We also asked about the refusal of table food veggies – we were told not to freak out, yet! Haha! I will start giving him a vitamin and still feed him pureed veggies as long as he lets us give them to him and continue to have him try table food veggies daily!
Well that was the jest of the appointment – oh and he got 5 shots! Poor baby! He cried so hard but then stopped about 5 minutes later. Big boy!!
Here are his stats for 1 year!!
Weight: 24 pounds 15.38 ounces = 77%
Height: 32 ¾ inches = 99%
Head: 18 inches = 81%
So in one year he has grown 12 ¾ inches and gained approximately 17 pounds!! Holy cow!!
Here are some comparison pictures!!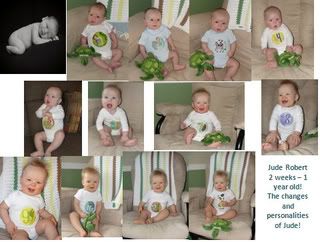 I want to know your 1 year old stats! What size child are we looking at in the future? Lol
Happy 1 year Jude! What a great year it has been!