Jude loves going to the Denver Zoo so when we saw that there was an Ice Cream social at the zoo for members we decided we had to go and check it out.
We had a ton of fun. Of course the ice cream was yummy and we all enjoyed it, but Jude especially did – he would just keep screaming and pointing at the spoon. Yeah I think we created a monster!! haha! Oh well, for one night we let him eat a ton of sugar! You are welcome Jude!
Jude waiting for Daddy to get him some ice cream. He is looking great for the zoo. Turtle gear on!! :O)
YUM!!! Look at those eyes!
More, More, MORE!
After we had our ice cream we went to the Carousel. Jude hadn't rode this yet so it was a big deal. He was so excited waiting in line. He was laughing, pointing and talking as he saw the Carousel go round and round. Finally we reached the front of the line and Jude was ready!!
Daddy and Jude – Jude was a little nervous.
Hanging on but smiling!!
Mommy and Jude after it stopped. I think he had fun – we will have to try it again soon!
What a great evening we had. I love family outings and I am so happy that Jude is able to do so much more as he gets older. What is next?!?!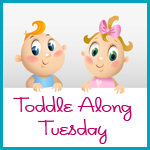 Make sure you link up!!