Okay okay – I am a thief! I don't care though. Emily over at "The juice is worth the squeeze" decided to show her readers all about her wedding because she started blogging well after her wedding and I love that idea. I too started blogging WELL after our wedding. We will be married for 8 years on August 9th so as you will see these photos seem old and aren't nearly as pretty as her digital photos but I cannot wait to show you Our Wedding. I am taking her idea of the A-Z run down of the wedding too. Thanks Emily!! :O) Here we go…
Wedding Day: My A-Z's
August 9th, 2003
Jeremy and Censie
Zion Lutheran Church
Brighton, Colorado
Attending:
Our wedding was a fairly large wedding, from what I remember we invited nearly 250 people and about 180-200 came. This is what happens when your husband to be has a HUGE family and the bride (me) grew up in a church that my dad had been working at for over 30 years at the time. We had a lot of church families and friends there with us and also a lot of college friends as well.
Bridesmaids:
I had four bridesmaids and 1 maid of honor. Maid of honor info will fall under M! :O)
My bridesmaids were a mix of old friends, new friends and family.
In the picture are all of us ladies. From left to right – Katy, she was my Sophomore roomie in college; Heidi, Jeremy's sister; Kari, maid of honor; Nikki, she was my freshman roomie in college; and Sarah, she was my best friend in high school.
I opted for a casual dress that wasn't expensive so that the ladies didn't feel the crunch for buying dresses they would never wear again! We were all so young so it was a very casual wedding. But it was great.
Cake:
Yum cake! Jeremy and I had a fun time choosing our cake, that cake tasting was yummy.
We went with a pretty traditional cake with 4 different types of cake. I honestly cannot remember all of the flavors but I do remember that there was one with yellow cake and raspberry filling – YUM!! If you couldn't tell yet, our colors were purple. 😉 So we had to put some purple on the cake. Also I remember that neither of us got to eat a piece of cake. Too busy dancing and visiting. Whatever!
Dress:
I wasn't all that into the dress shopping, funny because now when I think of weddings I have a whole other view on it. I went shopping with my mom, we were on a budget for sure so we went to our local David's Bridal. I am glad we did because I found a dress that really fit who I was then. I think the dress complemented me physically but also was pretty with the little details on it.
I loved that the dress that the detail at the bottom and it went all the way down to the train too. Looking at these pictures makes me realize how young I really was! 20 years old to be exact! ;o)
Engagement:
Well so far you have seen a traditional church wedding and a traditional cake and dress time to bring in the untraditional. Our engagement was different, fast and us! That is the best way to explain it. Jeremy and I knew each other for over a year before we were engaged BUT we didn't date for that whole year. We met the beginning of my freshman year of college, (he was a sophomore) and we didn't go on our first date until May during finals week! We were engaged by the end of the summer and married the summer after. FAST was a word that we heard a lot. Didn't matter to us, we knew we wanted to be married. Oh another word we heard a lot – YOUNG!
Flowers:
I love flowers, however, the idea of spending thousands of dollars on real flowers for the bouquets, center pieces and church flowers just didn't mix well with me. One of our good church friends owned a flower store in town and volunteered to put together bouquets for us if we bought the silk flowers so we jumped on that. And I am glad I did, I still have my bouquet, it is in our curio cabinet. I love that idea! So we went with the purples and whites and had beautiful flowers that we still have! Even my dad has his flower on his dashboard of his car. Pretty special if you ask me!
Groomsmen:
Jeremy had 4 Groomsmen and 1 Best Man. He too had a mix of family, new friends, and old friends. In the picture from left to right: Michael, my cousin; Trey (best man) Jeremy's former Rugby coach and mentor; Jeremy (groom lol); Jarrin, my little brother; Wes, Jeremy's good friend from college; Adam, Jeremy's best friend from high school.
Honeymoon:
For our honeymoon we went to this great Bed and Breakfast in Pine, Colorado. We love it! We have gone back 4 times since and wish we could go back again – babies change everything! It was a short trip for us because the week after the wedding we were packing up all of our stuff and heading back to Nebraska to move into our new apartment and start school! Fun!! But the time we spent up there was fantastic and we love going back all these years later.
Invitations:
I do not have a picture of our invitation but I did find an example of it online.
I will always consider Jeremy my best friend and that is why we chose this invitation. Kind of funny now that I look at it – we were kids and those are kids on the front. Funny how things work. lol
Joke:
Okay, this might be a funny word for the letter "J" but I had to include this somewhere. The following picture was from our reception, any thoughts?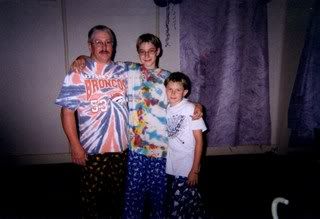 Are you confused yet? Well these are Jeremy's cousins and uncle. All through the wedding planning process they wanted us to plan a Pajama Party Wedding, I of course hated the idea but boy did they make me laugh when we got to the reception and saw that our handsome candle lighters changed out of their suits and into their PJ's with their Dad. It was so funny and it is something I will never forget. Sometimes family can drive you nuts and other times they make your day!
Kids:
Our Flower Girl was a little girl (not so little anymore) that I babysat since she was a baby. Hannah holds a special place in my heart and I loved being able to have her be a part of our wedding.
Our Ring Bearer was my cousin's little boy, Tyler. Adorable! As you can see in the picture we wasn't all that thrilled to be a part of our day but I am glad he made it down the aisle with Hannah.
By the end of the day he and Hannah were buddies. So cute! I loved having those kiddos be a part of the wedding.
Ladies Night:
This is probably the part of the wedding that would have been so different had we been older. I was 20 so there wasn't much for us to do – especially since only 2 of my bridesmaids were of age too! Lol that is what happens when you get married young I suppose! So instead of hitting the town and drinking too much we went to the theater – mature I know! ;O) We went to a dinner theater that served dinner/dessert and then watched Chicago. It was a fun night with my girls. We ended the evening by opening some naughty attire too but that was about it. Such good girls! Boy has that changed! Hehehe, I kid!!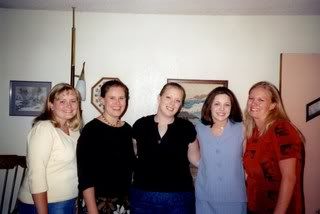 Maid of Honor:
Kari was my Maid of Honor. We have known each other since I was 3. She lived across the street from me so we were besties from the beginning. We have always had our differences and ups and downs but there was no question in my mind that she would be the one standing next to me in my wedding.
Well you have made it half way through my wedding! More to follow! This has been fun and I love that I get to share this with all of you!!