I never thought I would be so excited to print off documents from an email. Yeah you read that right – excitement over printed paper.
I am obsessed with getting organized!
I have started my very own Family Binder and I cannot wait to add more! I love this feeling.
I found this great etsy shop (I love etsy) called Clean Mama Printables and fell in love. It is just a simple idea of printed documents for meal planners, grocery lists, inventories and even bill trackers.
I decided that this was something that I had to have, so I finally hit "BUY" and got 2 kits that I love! So far I have a binder made and labeled and have started using the meal planner and the inventories for our freezer and pantry. I feel better already. I know what we have in our home to eat and surprisingly we have A TON of food! HAHA! Hello money saver – grocery shopping will be very cheap for the next month or so. Thank goodness because we are on a new challenge of a major budget (more on that later).
Check out my pictures! I am so proud.
Keep checking back on Building Our Story, Clean Mama has graciously agreed to let one of my lovely readers win 1 kit of their choice! I will keep you updated on the giveaway and also my progress on the use of my new binder!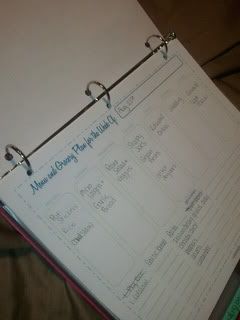 What do you think? Any tips on what you have your Family Binder?