What is a better way to get back into the world of daily blogging than a giveaway? You are in luck!
Okay, most of you (my fabulous readers) are mothers so I know all of you have heard of Boudreauxs Buttpaste – in fact I am sure that some of you cannot live without Buttpaste in your home!
When Jennifer from Boudreauxs contacted me I was thrilled because I couldn't wait to try all of the new products.
Before we received the package we had only used the original yellow tube of Buttpaste (and LOVE IT!) but I knew that they had so much more to try now. So check it out.
See all of these great products, yeah we got to try them all – in fact a couple of the products went to Barcelona with us!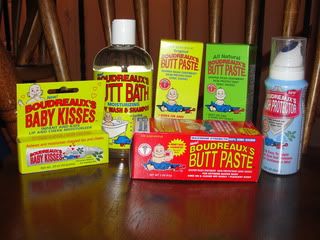 Now if you are one of my lucky readers you too will get a package with all of these great products!
The prize will include:
1- Boudreaux's Butt Paste
1- All Natural Boudreaux's Butt Paste
1- ALL NEW Maximum Strength Boudreaux's Butt Paste
1- Boudreaux's Baby Kisses Lip Balm
1- Boudreaux's Body Wash & Shampoo
1 Boudreaux's Rash Protector
I think my favorite item is the rash protector. Let me tell ya, traveling is hard on a baby bum but this stuff made sure that our little man was protected and happy the entire trip. Buttpaste products are on my list of items to give for new parents so I know that I will be adding the rash protector to my list too.
Now for the good stuff!
Enter away y'all!
This is an US only giveaway ONLY!
RafflecopterSettings = {
raffleID: 'NDM1NzJjYjAyYzlhODk0Yjc4MTAxNmE0MzE1NjgwOjM='
};