Today I am linking up with Growing Up Geeky and Our Growing Garden for their fun baby/toddler link up – Toddle Along Tuesday.
You can join these lovely ladies here: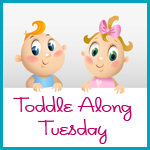 This week's topic is Milestones! Perfect since Jude is 16 months TODAY!!
Jude is on the go! Non-stop! He has learned to climb and run! So much fun – so much more work! lol
Jude is saying some words too!
He can say woof, cho-cho, uh-oh, baby, mama, dada, mom, meow, shoes, and okay.
Seems like every day he is learning something new.
We are down to 1 bed time bottle and 1 bottle at nap. We will be eliminating the nap bottle soon. Our goal is no more bottle at 18 months. We are getting there.
1 nap a day – lasting about 2 hours, sometimes 3.
Going to bed on his own! No more crying it out! YAY!! We have had more GREAT nights than okay nights! So great!
Has a ton of teeth! 11 to be exact – working on a 4th molar now.
He had his very first over night last weekend. He did great and so did we! ;o)
Happy 16 months Jude!! Mommy and Daddy love you!!