Still at it! I am so proud of us.
We did take a minor break on the planner when we went to Barcelona and then that week we returned to the States. I had to go out of town for business and Jeremy had a lot of doctor appointments that week.
BUT we are back and I am happy to share with you that we have had 2 full weeks of meal planning and less eating out. Woot!!
Last night we tried a new recipe called Mini Pizza Meatloaf. I must say, a success!! I enjoyed these and so did Jeremy. And talk about fast and easy! Hello!! This will be a recipe that stays in our recipe box for years to come! Yummy!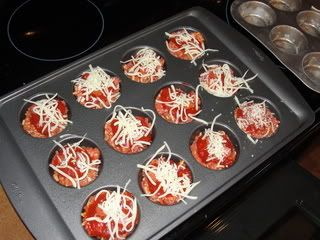 Here is the recipe:
1 1/2 lbs lean ground beef or 93/7 turkey
1 egg
1/2 C. pizza sauce
1/4 C. Italian bread crumbs or whole wheat crumbs
1/2 t Italian seasoning
1 1/2 C. shredded mozzarella cheese
1/2 C. pizza sauce for glaze
Mix all ingredients in a large bowl. Wear rubber gloves for easy clean up.
Use an ice cream scooper to scoop into 12 ct. muffin tin.
Top with pizza sauce and more cheese.
Bake in 375 degree oven for 25-30 minutes or until meat is cooked through.
We ended up with 16 pieces. Plenty for left over lunches! Yummy!!