Time for a little October love!
First I want to say, I cannot believe it is October already. Seriously where is 2011 going? And for that matter – stop growing up so fast Jude! LOL Slow down life!
And now second, thank you to my wonderful sponsors! You all rock and I love the blog love that we have in one another. I am slowly building my blog, no pun intended, and with all of you it has been fun and easy! YOU ROCK! So all of my readers make sure you visit these ladies and give them your follow and your love.
Without further ado the October Sponsors! (in no particular order)
PDX Momma
This picture pretty much defines this lovely lady. Jenn is an outspoken, fun loving, Portland living momma who blogs about Parenthood, Photography, Weight Loss, and Recipes.
She has an adorable chubby cheeked son named Oskar who will just melt your heart. Adorable really is an understatement.
Jenn is full of honesty and real life which makes her one of my favorite bloggin mommas!
To follow her click here!
Growing Up Geeky
MamaG is a momma of 9 month old Carina and boy does that little lady keep MamaG busy! Growing Up Geeky is a great Mom Blog for those soon to be moms or 1st time moms. MamaG keeps is real and shows (pictures and all) the undisclosed details of Mommyhood!
On top of the fun details of Mommyhood she also has great baby/toddler gear reviews and some even better GIVEAWAYS! Who doesn't love free stuff?
Make sure you join MamaG and her family on their journey.

Never a Dull Moment
The name of her blog explains it all! Parenthood = Never a Dull Moment. End of story.
This is a fairly new blogger in the Mom Blog world but she is kicking butt and taking names already! In the future be on the lookout for a Book Club link up on her blog! I cannot wait! Make sure you help Melissa get her blog up and running!
Check her out here!
Sweet Stellas
Who is Sweet Stella?
"I stumbled across Sweet Stella's very honestly. My son was 5 months old and I was needing a creative outlet to express the artist that was hiding somewhere in my new Mom-self. I started making Photo Boxes for my mother and mother-in-law, and started having fun with paper. Next came paint, ornaments, ink and stamps…and the rest is history! Now, Sweet Stella's is proving to be something that I can pour my heart and soul (not to mention four years of studying Fine Art at Wilfrid Laurier University) into. Every day, there is a new opportunity to work on a fun and creative project for a customer. There are little moments of inspiration; a glimpse of colour in an unusual spot…creative flair in an unexpected place.
First and foremost, I am a mom. I have a wonderful son who is a ball of energy and keeps me on my toes. But, in being a mom I have discovered that I need to stay true to myself, and for me, that means being creative. "
Shannon has been a guest poster and giveaway provider on Building Our Story numerous times. I am excited to have her partnership in the Blog World – along with her friendship.
Please continue your ongoing support to her business and blog!
You can find Sweet Stellas Here!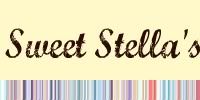 Ever Changing
Last but certainly not least Lauren Rae from Ever Changing is one of my blog friends that happens to also be an "IN REAL LIFE" BFF! Lauren and I have years of history together (some of which is too risqué for this panel) and over the years blogging has become a part of both of our lives.
Lauren is a wife to Jared. A new homeowner, gardener, working woman and a hopeful mother on top of being the perfect Godmother to my son Jude.
Ever Changing is a great title to explain Lauren and Jared's journey through life. Never seems to slow down for them either but what other way would we have it?
If you need a southern girl in your life, Ever Changing is the only blog you need to hit up!