Today I am linking up with Toddle Along Tuesday! I love these ladies – great blogs and great kiddos.
Make sure you check them out here!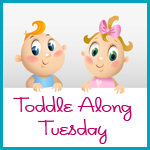 The selected theme for today is writing about something that you love about your kiddo. Well that is a hard topic to get into because I love everything about Jude. He is my world but the first thing that I thought about when I read the theme is this video.
Oh my gosh!
It still makes me laugh and cry when I watch it. This was taken late Janurary of 2011. Jude was about 7 months. My mom and Jude still play this game and his laugh is just as great.
So to answer the question of the day – HIS LAUGH, HIS SMILE, and HIS SILLY NATURE.