I am so happy that fall is finally here in Colorado!
Monday afternoon we headed out with our little Turtle to the local pumpkin patch/fall festival called Anderson Farms. We all had a great time. Only the pictures show it all! Enjoy!
Oh yeah, and a sneak peak at Jude's Halloween Costume! Fun!
Our "Woof"
Mommy and Jude.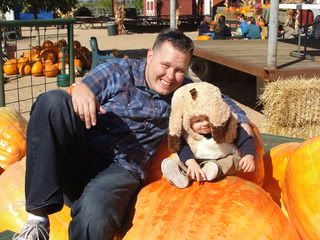 Daddy and Jude sitting on the GIANT Pumpkins
I love my little boy! He looks so grown up in the pictures.
Jude loved the goats!
He even got to pet a 2 week old baby goat. Adorable!
He was a little afraid of the goose but didnt want to leave it. Every time the goose "honked" Jude jumped! lol
My handsome boys! Going for a ride!
OH NO!! In jail. 🙁
Jude going on the hay ride to the pumpkin patch. I love this shot!
THE ONE!! Jude picked a good one!
Jude tested (licked) and Daddy approved. Time to load it up!
Jude was very happy with his choice.
We had such a great time. Thank you to Anderson Farms of Erie Colorado.
If you are ever in Colorado during Pumpkin Season – this is a must see!
HAPPY FALL!