Beat Ulcerative Colitis
I know, it is a weird post – especially on a family/baby blog but to be honest it is a part of our life all the time but we do not talk about it in public very often.
Some of my long time readers might already know that Jeremy suffers from this horrible disease and has had 2 hospital stays from it. Needless to say it is something that really affects us as individuals but also as a family. We are always worried when Jeremy starts feel like a flair coming on and hoping that the awful steroids will help his body chill out. That anxiety of not knowing what is going on inside his body is the worst.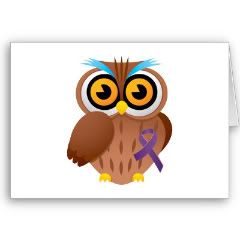 Ulcerative Colitis/Crhon's Disease Awareness Owl
Well about 3 weeks ago Jeremy had a checkup with his GI doc – we were beyond nervous. We thought for sure we would be leaving the doctor's office with horrible news of a possible surgery because of how bad he was flared. Just to be clear – the surgery we were worried about was a colostomy bag, um yeah Jeremy is 30 years old so that was a horrible thought.
Well we didn't leave that office in tears or upset but we did leave in shock – really I know!
But GOOD SHOCK – if there is such a thing.
JEREMY'S COLON IS HEALED!
Amazing words that we heard out of his GI doc's mouth. The medication he is using every other week is working, it healing from the inside out. He has been instructed to get off of all the steroids and focus on a healthy lifestyle. We are ecstatic. I think we are both so relieved that his body is healed and still healing that we will both be healthier. No more stressing out. No more issues of worrying about having that scary surgery.
Jeremy will always suffer from Ulcerative Colitis but right now he is in remission and we are happy. I will not go into details her on the blog, because it isn't a pleasant issue to deal with but I encourage you to google/bing Ulcerative Colitis and be informed. You would be very surprised how many people now a days deal with some sort of Colitis or IBS.
For all of you that have been praying for Jeremy – thank you! Your support is amazing.
Can you do me a favor? Click for a vote! Thank you!!