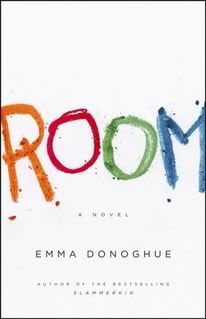 Book #3:
Room by Emma Donoghue
I had never heard of this book but when I was in an airport bookstore it caught my eye. I picked it up and read the first couple of pages and decided I HAD TO BUY IT!!
I am so glad I did. This book really got me interested because of my background in psychology and work with children. Especially with the recent breaking news stories on women being held captive and forced to bare children. The unthinkable! Makes my skin crawl!
The narrator of this story is also the main character of this story. Jack is a 5 year old little boy being held captive, along with his mother, in a 11×11 room in the backyard of a home. Jack tells the story of HIS world – which is really only this tiny room. He knows nothing else. His mother keeps him safe in this Room but knows the danger that they are in every day as well.
Ma was once in the Big World but was kidnapped. While I read this book I felt for this woman, she knew what was out there, she knew that there was so much more they could be apart of, she knew she was probably going to die with her son unless they escaped.
As a psychology buff this book kept me interested the entire time. The interesting routines that they had every day was one of the things that really stuck out to me. Ma had every day planned out. There was a schedule. This got me thinking, was this for Jack's well being for her our sanity – can you imagine going from a normal young adult life in the BIG world to this tiny 11×11 room, living in constant fear? Also the dialogue that they used, it truly showed the isolation that they had in this tiny room. For instance, Jack called the room – ROOM. He called the lamp – LAMP. He called the bed – BED. He called the table – TABLE. Why did he do this? For one he was a bit delayed in his education, even though his Ma tried really hard to teach him daily, but also why if you only knew of 1 bed or 1 table would you call it THE TABLE – it was the only Table so TABLE it was. Oh my gosh! To be the therapists who got to interview this child!!! LOL of course, I know this is fiction but still!!
To not give much else away, they come together and plan their escape! This is the part of the book that I could not put down! Intense!
This is a must read for anyone that finds psychology interesting but also for those that are intrigued by the recent kidnappings. What happens in those rooms, how does one get through the torture, or the redundancy of the days passing.
Thanks for reading my review!! :O)